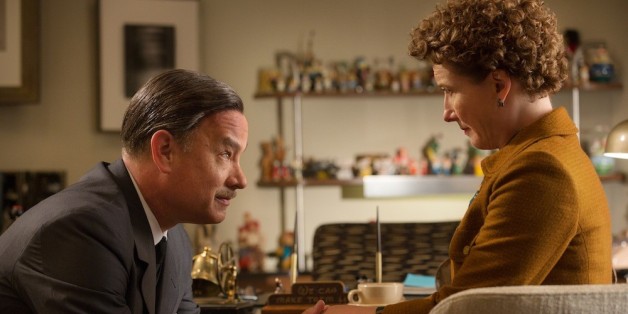 Even "Saving Mr. Banks" director John Lee Hancock was convinced that Walt Disney Studios would have a problem with his new film, which tracks the lengths that Walt Disney himself went to bring P.L. Travers' "Mary Poppins" to the big screen in 1964.
"I loved everybody at Disney, so it's not as though I didn't trust them or anything like that. I was just wary because their brand is so important to them, and he is the brand," Hancock told HuffPost Entertainment about the film, which stars Tom Hanks as Disney. "I had my dukes up, though, waiting for that moment when someone was going to say, 'You know that smoking thing? Can we just lose that?' Or, 'Does he really have to have a scotch at 5 o'clock?' Or, 'Can't he say 'darn' instead of 'damn'?' We were just waiting for those things. I'm not going to tell you we didn't have discussions about them, but we were allowed to make the movie that was script."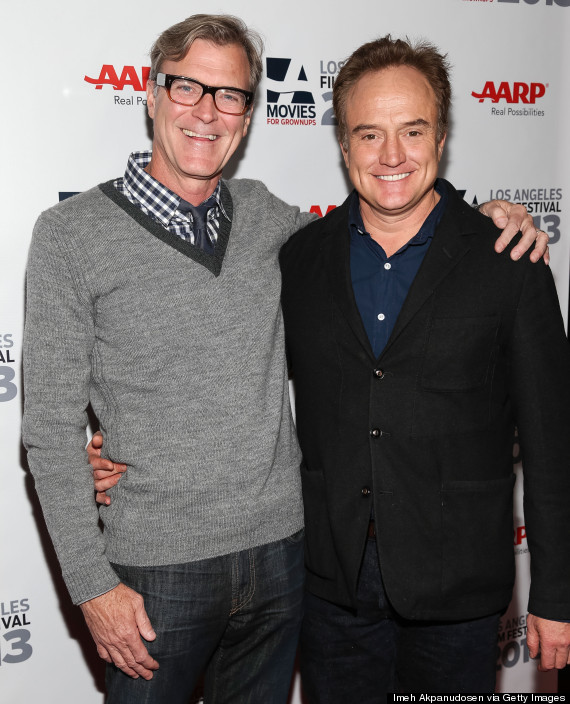 "Saving Mr. Banks" director John Lee Hancock and co-star Bradley Whitford
Co-written by Kelly Marcel and Sue Smith, "Saving Mr. Banks" paints a portrait of the creative process in Hollywood that is both cutthroat and understandable. Disney, who died of lung cancer two years after "Mary Poppins" was released, spent 23 years trying to get Travers (played by Emma Thompson) to sell him the rights to her character. Travers, however, had no interest in giving up her creative control. (She based the Banks family and Mary Poppins on her own childhood.)
"I think what attracted everyone who worked on this was the excitement about being able to show the really difficult process of trying to put a story together," Bradley Whitford, who plays "Mary Poppins" co-screenwriter Don DaGradi in the film, told HuffPost Entertainment. "How even with something as light and popular and kid-oriented as 'Mary Poppins,' there are these very deep feelings and painful feelings that, by the way, P.L. Travers was right to protect."
As portrayed in the film, Travers locked horns with Disney, DaGradi and Richard and Robert Sherman (Jason Schwartzman and B.J. Novak), the sibling songwriting duo who composed famed "Mary Poppins" songs such as "Let's Go Fly A Kite," "A Spoonful of Sugar "and "Supercalifragilisticexpialidocious." In the case of "Saving Mr. Banks," however, there were no such fights.
"I like to take advantage of writers, especially if I love a script. We don't always have to agree, but I love to hear what was on their mind," Hancock said. "Sometimes, writers go, 'I haven't thought of that.' Other times, Kelly would say, 'Now that I think about it, I think her room is blue. And here's why.' All those discussions and questions that you're answering in prep, gives a legitimacy to the thought behind what you're doing. It makes you feel more confident to make strong decisions when you're actually making the movie." (Sue Smith worked on an early draft of "Saving Mr. Banks," but Hancock said that her script was more of a traditional biography of Travers.)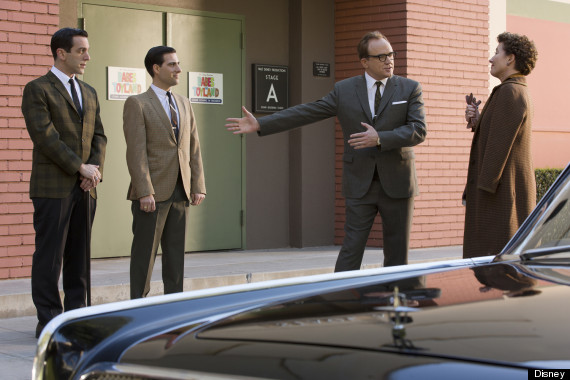 B.J. Novak, Jason Schwartzman, Bradley Whitford and Emma Thompson in "Saving Mr. Banks"
In addition to depending on Marcel, Hancock had a "secret weapon" in Richard Sherman, 85, one of the few people still alive who had a connection to the Travers sessions at Disney's offices. (Sherman's brother, Robert, passed away in March of 2012.)
"We relied on Richard heavily. Not only for recreating the rehearsal room, but sometimes it was as simple as, 'How would you guys be at the piano when you were selling a song or pitching a song to Walt Disney?'" Hancock said. "He was also helpful to Tom. So Tom could say, 'I'm coming into the room, you guys are pitching me a song -- where would Walt stay? Would he move or would he stand or would he lean?' Richard was there to say, 'He'd do this.'"
Whitford called Sherman his "greatest resource," and noted that, even to this day, the songwriter has complicated memories of working with Travers.
"You can imagine what a moment this was for Don and for the Shermans, because they knew they had the best material they ever had. They knew they had Walt behind it. They were about to work on the first line of their obituary. Then they're met with this withering British condescension," Whitford said with a laugh. "Richard and his wife, they talk about those two weeks, and it's like they're talking about a death. It's not funny. It threw them all off. It was really unpleasant."
Still, as Hancock pointed out, Travers "put on her full armor for those rehearsal room meetings" and only showed Disney one side of her personality.
"I think that writers and screenwriters will definitely see P.L.'s side in this, and have an understanding of what she went through. You're afraid someone is going to interpret your work incorrectly and make a mockery of your beautiful thing," Hancock, who has written scripts that he didn't direct and directed scripts he didn't write, said. "I've always been treated very well by the directors that I wrote for and the studios. That said, when a writer shows up to the premiere, it's one of those things where, for the most part, you're not getting any attention. You're all alone, you don't know where to stand. I certainly related to P.L. getting out of the car for the 'Mary Poppins' premiere, walking up the red carpet by herself and wondering where she should stand."
"Saving Mr. Banks" is out in limited release on Dec. 13 before a nationwide bow on Dec. 20.
BEFORE YOU GO
PHOTO GALLERY
"Saving Mr. Banks"