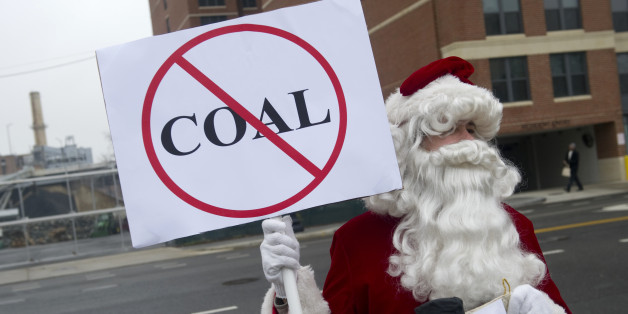 WASHINGTON -- The Sierra Club is going global with its effort to block new coal-fired power plants.
The environmental group has claimed at least partial credit for stopping, through its "Beyond Coal" campaign, 181 proposed coal plants in the U.S. from going forward. A new report released Wednesday looks at local efforts to block coal plants across the globe, from Alaska to Indonesia and Australia.
One of those plants is the 2,000-megawatt coal-fired power plant in Indonesia known as the Central Java Power Project. Locals in Batang have protested the proposed plant, which would be Southeast Asia's largest coal plant and whose construction would require the removal of several villages.
Elsewhere, in the Indian state of Maharashtra, residents have fought efforts to divert water from the Upper Wardha Dam for use in new coal plants, a process that they say is taking water that they use to irrigate crops.
The report details:
For over a year, farmers waged a fierce protest against the coal-power companies that planned to suck up the diverted water. One of the two planned coal projects quickly melted away. In a letter to 
the Indian power ministry, the company cited local resistance as the reason it was unable to make progress. The second power plant, backed by a company called Indiabulls, proved harder to shift. This project also had a larger allocation: The water being diverted to Indiabulls could provide irrigation for 25,000 hectares of farmland.
The report is a snapshot of such international efforts to block coal-powered plants. The Sierra Club says these stories are evidence that the group is winning its fight both in the U.S. and abroad. "The coal industry's prospects in the U.S. are on the decline, thanks to strong grassroots activism to defend our health, air and water," said Michael Brune, Sierra Club executive director. "And as these coal companies look to peddle their dirty fossil fuel abroad, communities worldwide are banding together to say no to toxic coal and polluted air and water."
Environmentalists have had several other successes in recent months. The Treasury Department announced in October that it will stop funding most coal plants abroad through multinational development banks. The European Bank for Reconstruction and Development also made a similar announcement this week.
"We are committed to moving beyond coal in the United States and supporting partners, colleagues and communities abroad that are stepping up to stop the expansion of dirty coal," said Brune.
BEFORE YOU GO
PHOTO GALLERY
The Nation's 10 Most-Polluting Power Plants