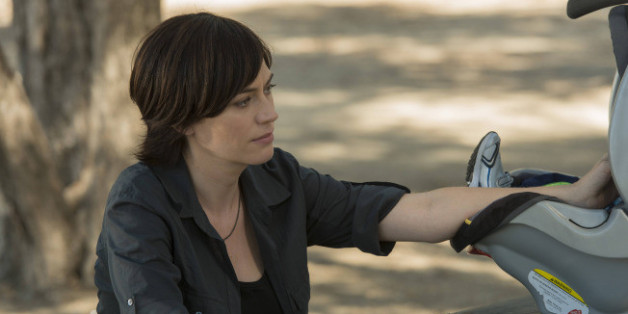 MAJOR SPOILERS AHEAD. PROCEED AT YOUR OWN RISK.
Last night's season six finale of "Sons of Anarchy" contained one of the most surprising deaths of the entire series. Tara's (Maggie Siff) brutal death at the hands of Gemma (Katy Sagal) was one of the most shocking and gasp-inducing moments in television this season.
The Hollywood Reporter spoke with "Sons" showrunner Kurt Sutter about the decision to kill off Tara, and what this means for Jax (Charlie Hunnam) and the future of the series as it goes into its final season next year.
"I knew early on in the series," said Sutter. "I won't say from the very beginning, but fairly early on, I knew I wanted for that final season, Tara's death to end season six."
"Sons of Anarchy" is loosely inspired by Shakespeare's "Hamlet," but now Sutter says that Jax and Tara's relationship is more akin to Shakespeare's romantic tragedy, "Romeo & Juliet." Sutter said "I knew I wanted Tara's death to really feel like straight-up Shakespearean tragedy. And the device of mistaken information, it's right from 'Romeo and Juliet.' I knew I wanted it to be visceral and just f***ing heartbreaking."
When Sutter spoke with Yahoo TV, he talked about how he mentally prepared before killing off a character he had known for years. "I think my grieving period happened a long time ago, so it's interesting, seeing people's reaction to it. You realize how truly upsetting and devastating it is..."
Another reason Tara's death was so horrible? It was by a meat fork and drowning in a sink of dishwater.
"I knew I didn't want it to be a gun, I didn't want it to be a knife," Sutter told Yahoo TV. He continued, "so something as simple and as pedestrian as a sink full of dirty dishwater and a carving fork just felt not only simple, but just much more brutal and horrible."
So where does this leave Jax and Gemma? What does Sutter have planned for SAMCRO before they ride their bikes off into the sunset? He's still tight-lipped about the final season, but Sutter did tell The Hollywood Reporter, "I would say that this is the season coming up where Jax needs to decide. There is no more debate. I think it's the season where he's in or out. Obviously we lay track to not just the emotional impact of the death of Tara, but [we ask] will it lead to revenge..."
"Sons of Anarchy" will return for its final season next Fall.
Correction notice: The original version of this article stated that Tara was killed by a knife when it was in fact a meat fork.
BEFORE YOU GO
PHOTO GALLERY
Critics Picks 2013-2014