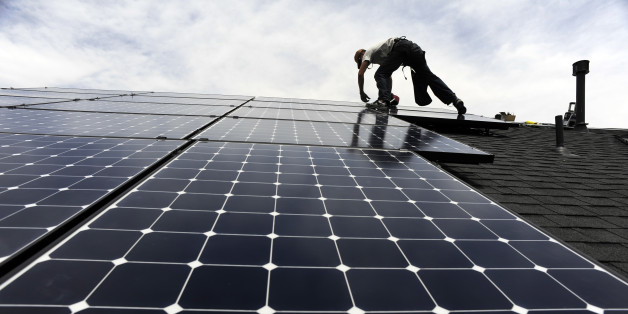 How much for a ray of sunshine? In Colorado it's becoming a hotly contested question.
Almost 30,000 Coloradans signed a petition that was delivered to Xcel Energy executives asking the company to withdraw its proposal to reduce the current credit rate for solar power generated by homeowners' rooftop systems from 10.5 cents per kilowatt hour to 4.6 cents per kilowatt hour.
Back in July, Minneapolis-based Xcel Energy -- the leading power provider in Colorado -- proposed a plan to roll back the state's net metering program and reduce its "Solar Reward" rebate levels to less than a penny per kilowatt hour -- or in the words of the Vote Solar Initiative (which is against the proposal), "make solar a bad deal for customers in its service territory."
Net metering is used as an incentive to sell solar power, paying homeowners full retail credit on their energy bills for the excess power their solar installations send to the grid.
According to Xcel, the current rate includes a "hidden subsidy" that its other customers without solar panels are having to pay for their neighbors' rooftop systems, The Denver Business Journal reported.
"Coloradans are not going to let Xcel get away with a dramatic rollback of the state's most important solar policy. If approved, Xcel would be able to drastically cut the credit solar customers receive for electricity they put on the grid," said Annie Lappe, solar policy director at The Vote Solar Initiative, in a statement. "This proposal is anti-progress, anti-consumer, and simply unfair. Colorado's solar customers deserve full credit for the valuable power they produce, which is building a safer, cleaner, more resilient grid for all of us."
According to a poll released by Public Opinion Strategies and Keating Research last week, 78 percent of Coloradans support solar net metering and 80 percent oppose Xcel's proposal to change the policy. The U.S. Solar Market Insight for the 3rd Quarter of 2013 even ranked Colorado 7th in the country for solar capacity with enough energy to power over 56,000 homes.
"Monopoly utilities across the country, like Xcel, continue to fail repeatedly in their attempts to stop solar competition." said Bryan Miller, TASC President and VP of Public Policy for Sunrun, in a statement. "In every net metering battle, from Idaho, to Louisiana, to California, to Arizona, states have preserved net metering. The verdict of 2013 is that net metering is here to stay."
BEFORE YOU GO
PHOTO GALLERY
Top U.S. Renewable Energy Sources - 2011 (MOST RECENT DATA)