 The approval rating of President Obama and Congress are both at or near record lows. Can historical precedent predict where the numbers will head next? Republicans are more likely than Democrats to dislike their party's candidates. And the Farragut North Metro escalators suck. Science! This is HuffPollster for Thursday, December 12, 2013.
IS APPROVAL DECLINE TEMPORARY? As HuffPollster reviewed yesterday, ten national surveys have tracked a year-long decline in President Obama's job approval. A different Pollster chart (below) shows that job approval for the U.S. Congress is also at a low ebb. Our poll average puts approval of Congress at roughly 9 percent, the lowest level since we began collecting results for this question in October 2008. Almost inevitably, the political punditry turns its attention to where the poll numbers will head next: Can or will perceptions continue to worsen in 2014 or have we hit a "floor" for both Obama and Congress? [HuffPollster; Pollster job approval charts for Obama and Congress ]
Consider, for example, Wednesday's analysis from the bi-partisan polling team behind the NBC/Wall Street Journal poll tackled that issue: "[Bill] McInturff, the GOP pollster, compares [Obama's] declining numbers to what happened to George W. Bush after his administration's failed response to Hurricane Katrina, explaining that Bush experienced a similar drop in job approval, in his favorable /unfavorable rating and in key presidential attributes. 'We have a long way to go in [Obama's] presidency,' McInturff says. But he calls Obama's current poll numbers 'a very critical inflection point.' Democratic pollster [Fred] Yang counters, however, that the president is facing only one chief hurdle (health care) – like both Ronald Reagan (Iran-Contra) and Bill Clinton (Monica Lewinsky) encountered during their presidencies. By comparison, Yang adds, both Jimmy Carter (economy, energy shortages, Iran hostage crisis) and George W. Bush (Katrina, Iraq, 2008 financial collapse) faced multiple episodes that weighed down their years in the White House. 'As health care goes, so goes the Obama presidency for next year,' Yang says." [NBC News]
Political scientist Brendan Nyhan argues many of the "hyper-pessimistic assessments" of Obama's difficulties involve references "to the historical record, which suggests that second-term presidents struggle to regain their previous levels of popularity, and to the current resemblance between Obama's current approval ratings and those of George W. Bush at this point in his term, which is illustrated by this graphic from USA Today [reproduced below]." Instead of covering individual polls "in search of evidence that Obama has 'turned the corner,'" Nyhan urges journalists to consult polling aggregators like HuffPost Pollster. "Just as it's too soon to say Obama's presidency is over or that he's destined to follow Bush down in the polls, we don't have sufficient data to say that his standing has rebounded either." [CJR]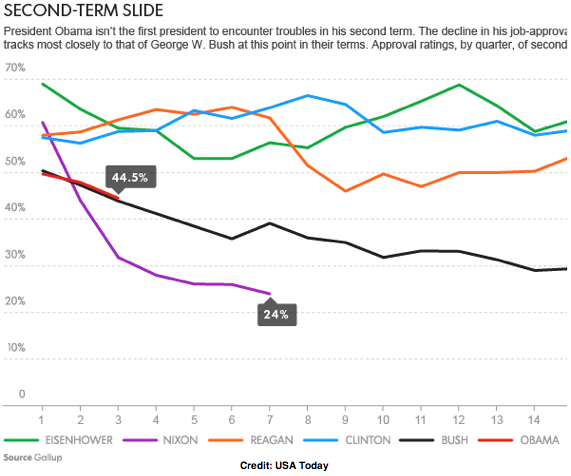 "The most common fallacy of journalism, and one of the most common fallacies of the human brain in general," writes New York's Jonathan Chait, "is the assumption that whatever is happening at the moment will continue to happen forever." [NYMag]
The same can be said for the interpretation of public opinion data. The notion that polls are just a snapshot has become a cliche, but it has the virtue of being true. Congressional approval may be nearing a "floor," if only because it cannot possibly fall below zero percent, but Obama's ratings could change meaningfully in either direction depending on future events. The current batch of polls may yield a few clues to future attitudes, but little more.
The just completed NBC/Wall Street Journal poll provides one such example in the form of different sort of question probing overall feelings about the Obama presidency. Just 28 percent described themselves as "proud" or "satisfied, " exactly half (50 percent) described themselves as "disappointed" or "dissatisfied" and 22 percent said their feelings were "mixed." Does that very low 28 percent portend more room for Obama to fall, given that the same poll gave him an overall approval rating of 43 percent? Not necessarily. [NBC News]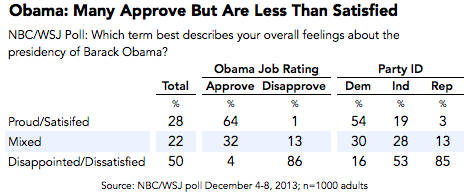 A cross tab provided to HuffPollster by the NBC/WSJ poll shows that roughly a third of those who approve of Obama's job performance also describe their overall feelings as something less than satisfied, indicating the sense of unease that extends to many many Democrats. Yet virtually all of Obama's unhappy approvers choose to describe their feelings as "mixed" rather than "disappointed" or "dissatisfied," suggesting that the partisan polarization that has kept Obama's approval ratings hovering in the mid 40 percent range for much of his presidency may keep them in that range going forward.
GOP HAS HIGHER INTRAPARTY DISSATISFACTION - Julie Bykowicz, writing on a Bloomberg poll released earlier this week: "Republicans are three times more likely than Democrats to dislike their own political candidates, the latest indication of an intra-party power struggle that will play out in primary elections next year. Forty-one percent of Republicans say they are unsatisfied with the party's choices for president and Congress, while 14 percent of Democrats are unhappy with their party picks, according to the Bloomberg National Poll. Republicans are also more inclined to view their party unfavorably than their Democratic counterparts, and are twice as likely to blame their partisan colleagues for dysfunction in Congress….The Tea Party's image is at a record low since the poll began measuring it in March 2010 after the activists burst onto the political scene in 2009 to oppose passage of the Patient Protection and Affordable Care Act. " [Bloomberg]
HUFFPOLLSTER VIA EMAIL! - You can receive this daily update every weekday via email! Just enter your email address in the box on the upper right corner of this page, and click "sign up." That's all there is to it (and you can unsubscribe anytime).
THURSDAY'S 'OUTLIERS' - Links to more news at the intersection of polling, politics and political data:
-42 percent of Americans prefer "Merry Christmas" to "Happy Holidays; 46 percent say it doesn't matter. [Pew Research]
-Clinton and Christie would run neck-and-neck in 2016. [Marist]
-Bruce Drake reviews the polls since Newtown, finds little change in views on guns. [Pew Research]
-Frank Newport considers Pope Francis in light of survey results on whether Americans consider religion relevant to today's problems. [Gallup]
-Jamelle Bouie says demography is not destiny for the GOP. [Democracy Journal]
-Sean Trende looks at the Senate seats most likely to flip in 2014. [Real Clear Politics]
-A Women's Voices Women Vote Action Fund/Democracy Corps(D) survey shows Americans favor implementing and fixing Obamacare over repealing and replacing it. [WVWV]
-Stan Greenberg (D) advises Democrats to go on the offense on Obamacare. [WaPost's Plum Line]
-Glen Bolger (R) urges Republicans "to stop being the dysfunctional equivalent of the Washington Redskins." [WaPost]
-Data science confirms that Farragut North has D.C.'s worst subway escalator. [WCP]