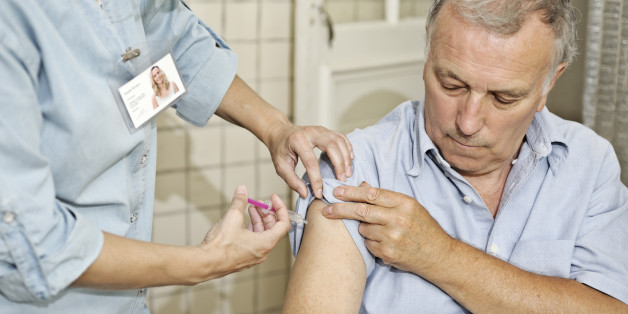 About 6.6 million people who would have gotten sick during the 2012-2013 flu season, didn't, thanks to the flu shot, according to a new government report.
In addition, flu vaccination prevented about 3 million influenza illnesses that would have required medical attention and 79,000 hospitalizations from influenza illness during last year's flu season, the Centers for Disease Control and Prevention reported.
In total, last flu season there were 31.8 million influenza-associated illnesses, 14.4 influenza illnesses that required medical attention and 381,000 hospitalizations due to influenza illness.
Dr. Tom Frieden, the director of the CDC, noted that many of the hospitalizations last flu season were among elderly people, who are at an especially high risk for complications from the flu. However, flu-related deaths among young children were also particularly high last season as well, at 169.
As of November 2013, about 40 percent of people ages 6 months and older in the U.S. had gotten a flu vaccine (which researchers noted is about the same percentage for this time last year). Researchers noted that if 70 percent of people received the flu vaccine last season, it would have prevented an additional 4.4 million illnesses, 1.8 million illnesses requiring medical attention and 30,000 hospitalizations.
"We are happy that annual flu vaccination is becoming a habit for many people, but there is still much room for improvement," Dr. Anne Schuchat, M.D., of the CDC, said in a statement. "The bottom-line is that influenza can cause a tremendous amount of illness and can be severe. Even when our flu vaccines are not as effective as we want them to be, they can reduce flu illnesses, doctors' visits, and flu-related hospitalizations and deaths."
The flu vaccine is recommended for everyone ages 6 months and older, particularly people who are at risk for complications from flu (such as pregnant women, young children, people with other medical conditions like chronic lung disease, and people ages 65 and older. (People with severe egg allergy may not be recommended to get the vaccine, though you should talk to your doctor because those with mild egg allergy may still be able to receive it.)
And if you're really confused about whether you should be getting a flu shot or not, check out our handy infographic here.
BEFORE YOU GO