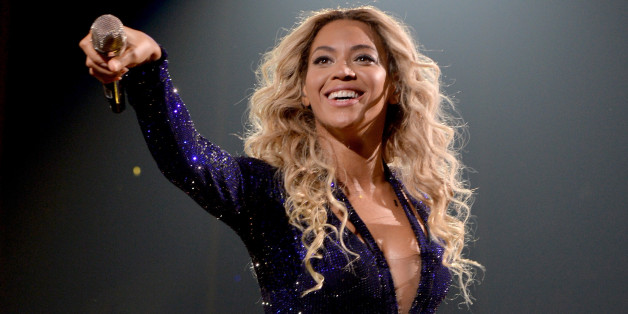 It should come as no surprise that while we were tucking ourselves into bed last night, Beyonce was releasing a new album. The new LP, titled "Beyoncé," includes 14 songs and 17 videos, and essentially made all the dreams of womankind come true. (OK, maybe not all of them, but a few.)
Naturally, as soon as the news of Queen Bey's new album dropped, the Twitterverse exploded with all sorts of excellent and appropriate reactions of unadulterated joy. Here are just a few of our favorites:
#Beyonce's new album makes me think that Santa's actually probably a woman.

— Elizabeth Plank (@feministabulous) December 13, 2013
I never knew Beyonce saying "surfboard" was all I ever needed in this weird cruel world

— jessica testa (@jtes) December 13, 2013
Can't wait to hear the song Taylor Swift writes for her next album about Beyonce ruining her birthday.

— Kate Spencer (@katespencer) December 13, 2013
Nope, we shouldn't even bother, there's no point MT @julieklausner Today in non-Beyoncé related content:

— Emily Gould (@EmilyGould) December 13, 2013
The new Beyoncé song about oral sex is almost as good as actual oral sex.

— TracieEganMorrissey (@jezebel_tracie) December 13, 2013
The ONLY bad part of Beyonce's new album is that Gwyneth probably heard it before we did

— Michelle Markowitz (@michmarkowitz) December 13, 2013
If your tumblr is not all beyoncé gifs right now then what are you even doing

— Heben Nigatu (@heavenrants) December 13, 2013
is santa beyonce?

— Erin Gloria Ryan (@morninggloria) December 13, 2013
If you're not spending the morning glued to http://t.co/avtRMn6xil then I don't even know what to say to you.

— Rebecca Shapiro (@RebeccaShap) December 13, 2013
Waking up to find out that this is the best day of my life...nothing else matters anymore #BEYONCÉ #QueenBey #bowdown

— Alanna Vagianos (@lannadelgrey) December 13, 2013
Basically only on Twitter right now for Beyonce reactions. http://t.co/98abcZVORc

— Jessica Valenti (@JessicaValenti) December 13, 2013
And probably the most accurate reaction of all...
"i was late for work today because of Beyoncé"

— Rossalyn Warren (@RossalynWarren) December 13, 2013
BEFORE YOU GO
PHOTO GALLERY
Beyoncé's Style Evolution