While most children ask Santa to bring them toys for Christmas, one little boy from East Northport, N.Y., has a special request: He wants an Xbox and a prosthetic arm so he can play it.
Christopher Kiezek, 6, who was born without part of his left arm, just wants to look like the rest of the kids in his neighborhood, his family told CBS New York.
However, the family's insurance would not cover the cost of the new limb because it is not crucial to his life, according to Fox 5 News.
"Right now he has nothing, his prosthetic doesn't fit him anymore," Christine Kiezek, the boy's mother, told radio station 1010 WINS, per CBS.
A close family friend, Robert Jackson, was so moved by Christopher's request that on Wednesday he started a fundraising campaign on GoFundMe.com. His goal was to raise $25,000.
However, once Christopher started gaining attention from the fundraising page, he immediately took his Christmas wish back because he didn't want to be noticed for his disability, Fox 5 reported.
But his wish has been granted. By Friday evening, the campaign had raised more than $53,000, and Christopher's parents plan on telling him it's from Santa, the news outlet said.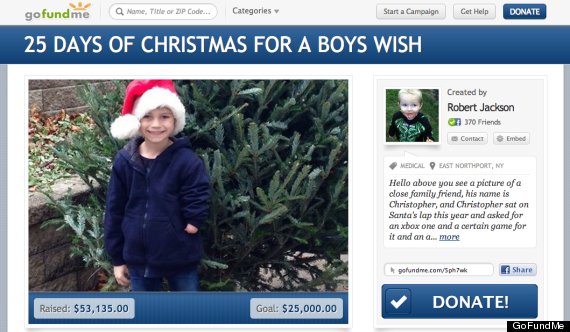 Robert Jackson's GoFundMe page had raised over $53,000 by Friday evening.