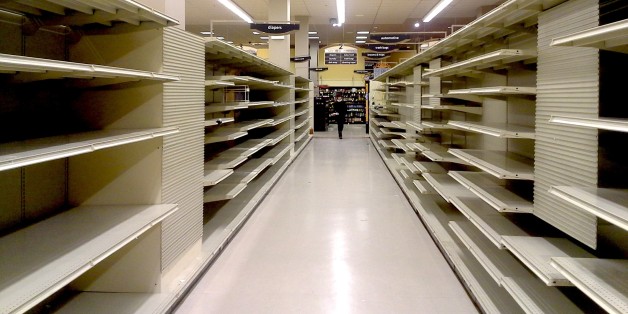 Though bargain-hunting shoppers have already been swarming Chicago-area Dominick's grocery stores set to close by the end of the month for several days, crowds were expected to grow even larger Monday when alcohol went on sale.
Many area Dominick's stores -- specifically the ones that have not already been purchased by either Jewel or Mariano's -- began selling their remaining liquor supplies at 30 percent off early Monday morning, the RedEye reports.
Beginning Friday, remaining booze at participating stores will be even cheaper -- half off.
This is how bsocha19 and I close out Dominick's pic.twitter.com/2pML18ngAQ

— Julie Marzullo (@julayanne15) December 16, 2013
As of last Friday, many stores were already offering 50 percent off almost everything left in stock. At the chain's 5201 N. Sheridan Rd. location on Sunday, little merchandise remained besides produce, meat, dairy and the as-yet regularly-priced alcohol. (Photos below.)
According to the Chicago Sun-Times, the sales extended to 62 of the 72 closing Chicago-area stores. All but five of the stores that will become either Jewel or Mariano's are the lone holdouts.
The Dominick's closings mean more than 6,000 layoffs in the Chicago area -- the largest waves of layoffs the area has seen in years. Though workers at closing stores that are being purchased by other chains can re-apply for jobs with the new owners, they will not be given preference over other applicants.
PHOTO GALLERY
Dominick's Closing Sales