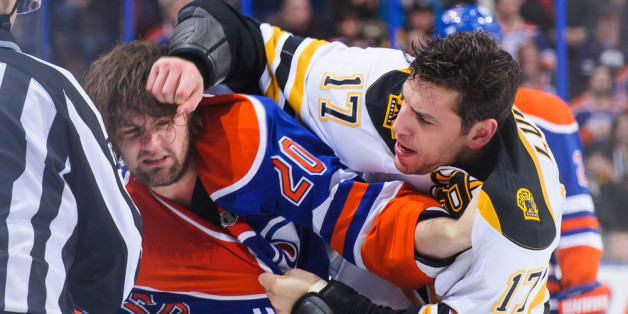 As a general rule, it's best not to get into bar fights. And you really shouldn't pick one with a professional hockey player -- especially not Milan Lucic, a Boston Bruins player with a reputation for brawling.
On Saturday night, Lucic hit up the bars in his native Vancouver after the Bruins lost to Vancouver's Canucks, 6-2. An unnamed man, apparently unaware of Lucic's day job, was captured on film hurling insults at the 6-foot-3-inch, 235-pound left winger.
A profanity-laced video of the encounter, uploaded to YouTube, doesn't prove any punches were thrown before police intervened, though Lucic tells officers he'd been hit by the man two or three times. In an amusing show of ignorance, the assailant repeatedly yells at Lucic, "Do you know who you're f---ing with?" To which Lucic responds, "Do you know who you're f---ing with?"
WARNING: NSFW language. (Story continues below.)

The Vancouver Sun reports no charges were filed as a result of the altercation. Vancouver Police could not provide any details, or even confirm the event took place.
As evidence of what Lucic is capable of, The Big Lead helpfully provides this video of a fight with Edmonton's Luke Gazdic last week, which took place on the ice:
BEFORE YOU GO
PHOTO GALLERY
2013-14 NHL Highlights