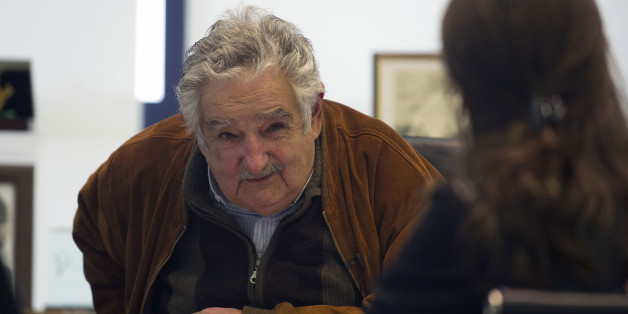 The first president to legalize weed still has a lot more to give.
When Uruguayan President José "Pepe" Mujica finishes his term, he plans to adopt dozens of children and teach them to work the land, Uruguayan daily El Observador reports.
"I've got the idea to take 30 or 40 poor kids and bring them to live with me," Mujica, 78, said on Friday during a meeting with business leaders. Asked by El Observador when he'd move forward with the adoptions, he said "after I remove this sash that's been weighing on me," referring to the end of his presidential term in March 2015.
It's not the first time Mujica has publicly considered such plans. In 2006, before he became president, Mujica and his wife began filing paperwork to start an agrarian school on their 64-acre plot of land outside the capital of Montevideo, according to El Observador.
"I'm 71 and have to start thinking about succession," Mujica said around that time, according to El Observador. "My family are the children of the poor who want to work, those are my kids -- so I'm determined to start this rural trade school."
But the idea never came to fruition.
Uruguay's president has become famous for his austere lifestyle, with BBC dubbing him the "world's poorest president" in a profile last year. He refuses to live in the presidential residence and sold off a seaside presidential vacation home. Instead, he prefers to remain on his humble farm where he and his wife grow chrysanthemums, tending to the land with their three-legged dog Manuela. He drives a 1987 Volkswagen Beetle and donates 90 percent of his salary to charity.
Mujica's lifestyle contrasts sharply with that of other world leaders. Former President Bill Clinton has raked in tens of millions of dollars on the speaking circuit since leaving office, while his successor George W. Bush has retired to a life of quiet opulence, where he pursues his hobby of painting.
BEFORE YOU GO
PHOTO GALLERY
27 Reasons Why U.S. Shouldn't Lead War On Drugs