When Arapahoe High School students heard the first gunshot from their classrooms, it took a moment to register what was going on and then find a place to hide.
While Arapahoe High senior Matt Bowers was hiding with his classmates and teacher, he wrote a goodbye note to his family in ballpoint pen on his hand that read, "Family, I love you all so much. I'm here now." Below the note was a drawing of a cross, symbolizing heaven (story continues below):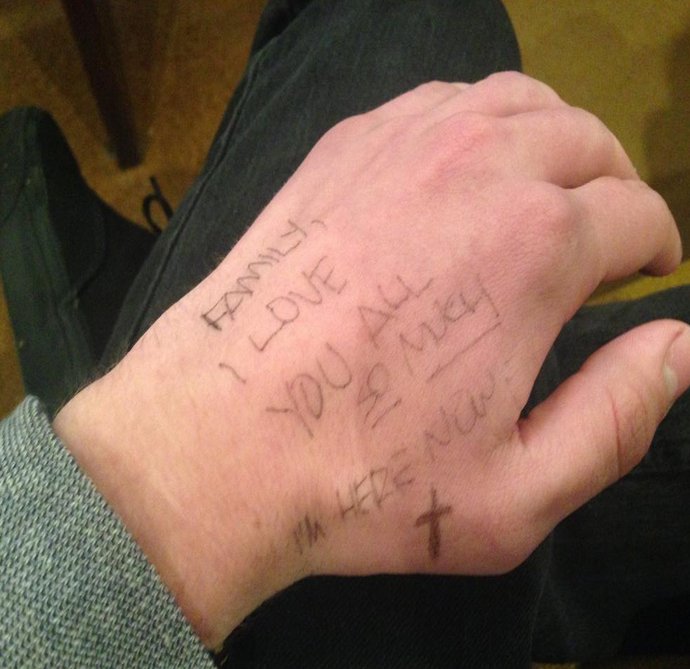 The note Matt Bowers wrote on his hand to his family in case he lost his life in the shooting at Arapahoe High School reads, "Family, I love you all so much. I'm here now." (Photo credit: Matt Bowers)
"That's where I genuinely thought I was headed if Karl happened to stumble into our classroom and actually end it for all of us," Bowers told CNN.
Bowers said he was in his World Lit class watching a video about "Maus: A Survivor's Tale," an illustrated but complex story about surviving the Holocaust by Art Spiegelman, when they heard "a loud bang."

"It only sounded as though somebody had dropped something large so I didn't think much of it then, until a few seconds later, two more bangs rang through the halls of Arapahoe," Bowers wrote in a blog entry titled "The day of High School I'll never forget."
In a split second, our class looked at each other with disbelieving eyes, and blood withdrew from my teacher's face.

Within the next instance, our entire class bolted to the corner of the classroom, kicking off papers while climbing over the desks, as everyone crammed their way as close as they could away from the entrance. In seconds, our teacher locked the door and whipped the lights off. I heard another couple shots, screaming, and somebody's voice shouting threats...
Hiding with his classmates, Bowers wrote that he heard five shots and that he was worried that the shooter would enter the classroom. The shooting ended up only lasting about 80 seconds, but police say that gunman Karl Pierson, 18, brought a shotgun, extra ammunition, three molotov cocktails, and a machete looking for school librarian Tracy Murphy. Within those 80 seconds, Pierson shot 17-year-old Claire Davis in the head at point-blank range, set off one of the molotov cocktails and took his own life.
About an hour later, Bowers and his classmates were escorted out of the classroom by a SWAT team with their hands held above their heads and were moved to the school's outdoor track, where they waited until they could board the busses. On the bus, Bowers says he remembered the note he had written on his hand.
"One thing I learned, is that you never really know anything like this could happen to you, until it does," Bowers wrote on his blog.
Head over to Matt Bowers' blog to read "The day of High School I'll never forget: My experience of the Arapahoe High School shooting"
BEFORE YOU GO
PHOTO GALLERY
Arapahoe High School Shooting