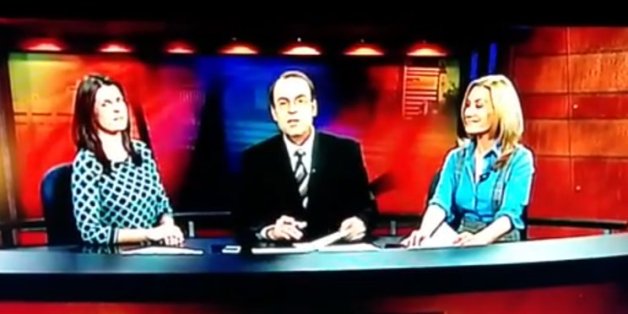 Apparently you can't have the most epic news sign-off ever without taking some heat for it.
The KSN weekend news anchor whose microphone caught him saying "let's get the f*ck out of here" Saturday night has reportedly been fired, the Wichita Eagle said Tuesday.
It wasn't until about two minutes after Justin Kraemer left his broadcast chair that he said the phone calls started coming in non-stop and he realized what had happened. Since then, he has become a viral internet sensation. But Kraemer told the Eagle that Monday morning KSN said that "it would be best if they moved forward without me."
"I'm embarrassed," Kraemer said. "I did something extraordinarily unprofessional. It's something that's drilled into you from the minute you start in this business to always consider the microphones hot."
Even still, Kraemer admits that being let go has "struck a chord."
"TV news has got a lot of issues right now," he said. "One of the biggest issues with TV news is that a strong argument can be made that it's insincere and fake.... At least I'm real. If I have an epitaph, that's what it is."
Reports from Gawker have said that Kraemer had plans to leave KSN even before the incident. An anonymous source said that he had been hired by KOAA in Colorado Springs, and that the night of the legendary "sign-off" was his last weekend with the program.
But while it is still unconfirmed exactly what has happened, it seems not even Kraemer himself is quite sure.
"It's a fascinating process to go viral," he said. "I'm not sure I would wish it on anybody, but honestly I really don't know how to put into words how surreal and bizarre the last few days have been."
Need a quick refresher? Watch the video below.
UPDATE: Evan Pappas, General Manager for KOAA in Colorado Springs where Kraemer was reportedly hired, told the Huffington Post in an email that this was not true.
"Despite reports, Justin Kraemer will not be working at KOAA," he said.
BEFORE YOU GO
PHOTO GALLERY
Journalism Scandals