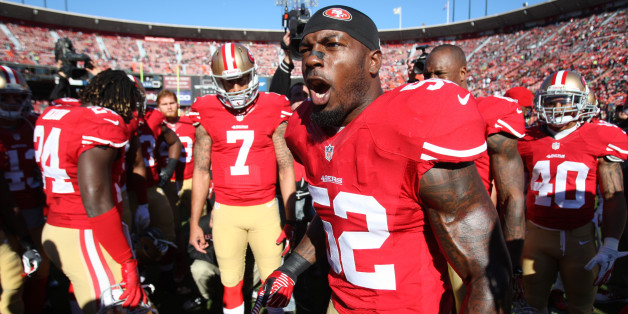 Patrick Willis has set the benchmark for NFL linebackers over the past six seasons. The six-time All-Pro middle linebacker has earned that honor every year of his career with the San Francisco 49ers, including as AP Defensive Player of the Year as a rookie in 2007.
Willis, 28, is also an avid supporter for underprivileged youth, having grown up himself amid great family turmoil, and has teamed up with Duracell to support "Toys for Tots."
He spoke to The Huffington Post about the lesser-known comedic side of head coach Jim Harbaugh, the maturity of quarterback Colin Kaepernick and why being a defensive player today is as hard as it looks. (This interview has been edited and condensed for clarity.)
Is it true that your coach, Jim Harbaugh, who everyone seems to see as a stern man, has a far better sense of humor than he's given credit for? I have heard he's quite the entertainer.
Oh, he is, man. Coach Harbaugh, he's a player's coach. You know, he's the type of coach -- when it's time to work, we work, and we get the job done. But if there's any time to joke around and kid, he's all for that, too. He's a guy that you'll see trying to hold a snap on a field goal, or a guy trying to throw a pass into a hoop, or a guy who's trying to play basketball to see if he can dribble around you. He's a player's coach to a T. We find time to make sure we keep it loose and fun.
What keeps you inspired, in your seventh pro season now, to get better?
Really, what inspires me is to just go out and be the very best I can be. Anytime I've ever been involved in anything -- whether it's a pick-up game or charity work -- I just want to be the very best. And sometimes what we forget is others are watching you, and you can sometimes make a difference.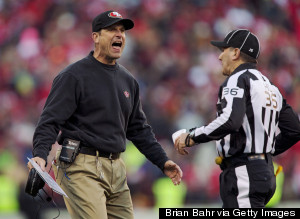 Willis says of Harbaugh, "He's a guy that you'll see trying to hold a snap on a field goal." (Getty Images)
How has your quarterback, Colin Kaepernick, grown and matured, since he's been the starter from Day One this year?
Since the day Colin came in, he's worked his tail off. He works every day extremely hard. And him going through the adverse times that he went through, when everybody was kind of saying, 'Well, maybe he's not the quarterback we thought he was' -- he's always known the quarterback that he is, and we believe in him. It's not over. As long as you play this game -- or, really, do anything well -- you're always gonna have that criticism and adverse times around you.
How hard is it to stay within the rules, since the game today favors the offense? Is it harder to be a defensive player today than it was 10 or 15 years ago?
That's why you have to adapt. Good players do that. And I think us as defenders, we play at the highest level. There is no level after this. We have to be able to make those adjustments.
The league has made a commitment to protecting its players, specifically defenseless players. From a defensive standpoint, how hard is it to abide by the rule changes, and does it ever affect the way you play the game?
I'm not gonna say that it's not tough. I'm not gonna say that guys don't think about that when you're going to make a tackle or a hit. We just try to be as smart as we can and play within the rules. But at the end of the day, we're defensive players. Ever since we were taught to play defense, we were taught to tackle. You tackle with your head up and try to do it the right way, but we all know that it's not always gonna be perfect. We all know the name of this game on defense is to tackle. In our eyes, it's by any means necessary. If it's the difference between a guy scoring a touchdown or a first down, our job is to stop them. Sometimes we get hits that are not legal and are penalized for it. Speaking for the guys on our team, we don't try to do it intentionally.
Email me at jordan.schultz@huffingtonpost.com or ask me questions about anything sports-related at @Schultz_Report and follow me on Instagram @Schultz_Report. Also, be sure and catch my NBC Sports Radio show, Kup and Schultz, which airs Sunday mornings from 9-12 ET, right here.