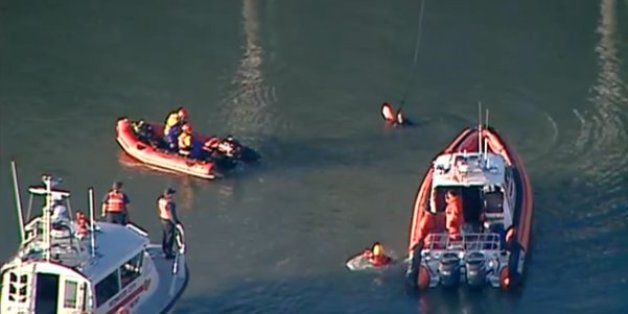 A man accused of trying to throw his wife off a California bridge learned what justice is Friday when his wife was saved -- and he fell into the bay himself.
Xavier McClinton, 47, was arraigned in San Mateo County on Monday, charged with attempted murder and domestic violence in the attack, Patch reports.
At about 2:25 p.m. Friday, McClinton was driving east on the San Mateo-Hayward Bridge with his wife of eight years when the two started arguing. When the argument turned south, so did McClinton. He allegedly drove his car off the road in an attempt to crash it into the water, but he hit a barrier.
That's when police say he grabbed his wife, pulled her out of the car and tried to throw her off the bridge. Several hero motorists who witnessed the incident barely saved the woman by grabbing her legs before she plummeted 15 feet into the water below.
Instead, McClinton fell, prompting a U.S. Coast Guard rescue operation (video below).
His wife, whose name has not been released, suffered a gash from the side of her mouth to her cheek and received several stitches, NBC Bay Area reports. It wasn't immediately clear how she was injured.
Investigators say McClinton showed signs of paranoia in the two weeks leading up to the attack, the San Jose Mercury News reports. San Mateo County District Attorney Steve Wagstaffe said McClinton thought people were trying to break into his house and kill him.
The couple has three children together. McClinton is being held without bail at San Mateo County Jail. He's expected to appear again in court Friday.
BEFORE YOU GO