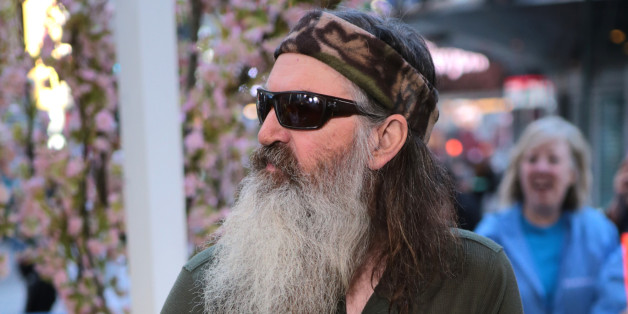 When "Duck Dynasty" star Phil Robertson's GQ profile hit the stands this week, readers learned that Robertson is extremely anti-gay when he made comments about homosexuality being "sin" and likened it to bestiality.
In response, A&E suspended Robertson from the network -- and some people are NOT happy about the decision.
If duck dynasty gets cancelled over talking anti gay then fuck A@E they can go suck a dick

— CountryBoy05 (@Anichols405) December 19, 2013
This crap is out of control: A&E suspends Duck Dynasty's Phil Robertson for agreeing with the Bible http://t.co/GFiCEHC0qj

— Herman Cain (@THEHermanCain) December 19, 2013
So tell me this: what IS NORMAL about Gay, Queer, Homo, Fag. Is putt'n in the rough normal? We want Duck Dynasty.

— jimmy garner (@jimmygarner) December 19, 2013
@CloydRivers Phil Robertson got kicked off Duck Dynasty for remarks about queers!Support freedom of speech Fear the beard fags!

— Jason Dalton (@35Dalton) December 19, 2013
Some faggot is on tv talking about how offense Phil Robertson is on duck dynasty 😂😂😂 #ShutUpGayBoy

— Zach Harlow (@HarlowZach) December 19, 2013
So now I can't watch Duck Dynasty because the homosexuals are offended? I wasn't going to say anything about this, butt fuck them!

— P-Wil (@SittingYoda) December 19, 2013
@AETV I stand behind Phil and Im not Christian. I will no longer watch A&E I watch Duck Dynasty because their are no gays on it,clean family

— Eddie Massre (@usedshoestore) December 19, 2013
I hope A&E loves their heterophobic, anti-Christian values because that's all they're going to be left with. Epic misfire.

— Bryan Fischer (@BryanJFischer) December 19, 2013
Some faggot got his feelings hurt and complained, so Phil can't be on Duck Dynasty anymore because he publicly agreed with the Holy Bible!

— Clayton James Hughes (@ClaytonHughes7) December 19, 2013
Phil Robertson suspended from Duck Dynasty because, again, gays want to shove their beliefs down everyone's throats. #doublestandard

— Jasper Kleinjan (@JasperKleinjan1) December 19, 2013
Duck dynasty will not be the same cause people are pussies and can handle people saying gay or fag

— Nolan1⃣5⃣ (@NolanRichards15) December 19, 2013
The Gay Mafia does a hit on Duck Dynasty http://t.co/2vKhq5rvJK - via @MsEBL @BatshitCrazyNwz #IStandWithPhil #tcot

— Robert Stacy McCain (@rsmccain) December 19, 2013
So they suspend Phil Robertson from Duck Dynasty for stating the Bible? What has this world come to?

— •*•Our God Reigns•*• (@Faith_in__God_) December 19, 2013
Sign the petition to bring Phil Robertson back! http://t.co/aeQLQmuXyt #DuckDynasty #DuckNavy #FreedomOfSpeech #God pic.twitter.com/9G23WX5klg

— BoycottAETV (@BoycottAETV) December 19, 2013
Duck Dynasty is all about God, guns, family, hard-work, camo and working for success, of COURSE the left is attacking http://t.co/qxWbw9iumZ

— Katie Pavlich (@KatiePavlich) December 19, 2013
Duck dynasty got cancelled cause Phil Robertson stuck up for the bible saying gay marriage is wrong....it's a sad world...

— Opie Taylor (@trueopietaylor) December 19, 2013
Sign our petition to stand with Phil Robertson and #DuckDynasty! #StandWithPhilRobertson http://t.co/qDsYE4QFjf

— NOM (@NOMupdate) December 19, 2013
Duck Dynasty worships God. A&E worships GLAAD.

— toddstarnes (@toddstarnes) December 19, 2013
Pretty disheartening, to say the least. However, at least SOMEONE has his head on straight:
The Duck Dynasty guy who likened homosexuality to bestiality makes a living helping people trick ducks into thinking they want to fuck them.

— God (@TheTweetOfGod) December 19, 2013
(h/t The New Civil Rights Movement)
Correction: Twitter user @bran_hamilton's tweet was originally included in this story but was taken out of context and was not meant to be anti-gay. We apologize for the inclusion.
BEFORE YOU GO
PHOTO GALLERY
Anti-Gay Celebrity Statements