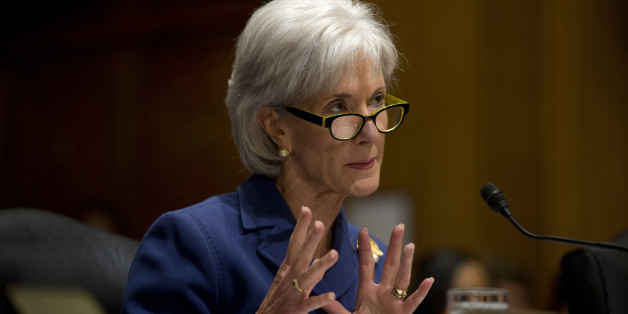 The uninsured are almost as confused and suspicious of Obamacare as other Americans. A reporter pits 'talking to voters' against polls. And the most annoying word in conversation? Whatever. This is HuffPollster for Thursday, December 19, 2013.
POLL OF THE UNINSURED FINDS LITTLE KNOWLEDGE ABOUT OBAMACARE - Sarah Dutton, Jennifer De Pinto, Anthony Salvanto and Fred Backus: "More than two months after the health care exchanges opened, a new CBS News/New York Times poll reveals most uninsured Americans - 58 percent - say they have not looked up information about applying for insurance, while four in 10 have done that. Forty-nine percent of uninsured Americans who looked up information were able to get the information they needed, but about as many – 48 percent - were not. Twenty-four percent of the uninsured have turned to HealthCare.gov, the federal government's health care web site, and 13 percent have visited a state-run web site. A majority of uninsureds who visited Healthcare.gov (57 percent), say they found it difficult to use. Forty-one percent saidt was at least somewhat easy to use."
[CBS News]
Uninsured as suspicious of ACA as other Americans - Abby Goodnough and Allison Kopicki: "Americans who lack medical coverage disapprove of President Obama's health care law at roughly the same rate as the insured, even though most say they struggle to pay for basic care, according to the latest New York Times/CBS News poll. Fifty-three percent of the uninsured disapprove of the law, the poll found, compared with 51 percent of those who have health coverage. A third of the uninsured say the law will help them personally, but about the same number think it will hurt them, with cost a leading concern….There are several reasons the uninsured appear to be as wary of the law as the insured, including opposition to the requirement that most people have insurance. Still, nearly six in 10 uninsured said having insurance would make their own health better. And 56 percent said they were more likely than not to get insurance by March 31, the deadline to enroll in coverage or face a tax penalty under the law. Thirty-five percent said they were more likely to pay the penalty." [NYTimes]
But seniors were once suspicious of Medicare Part D - Ezra Klein: "These numbers echo the rollout of Medicare Part D. At launch, the program was less popular even than Obamacare. In May 2006 -- five months after Part D launched -- a CBS/New York Times poll found 48 percent of seniors said they didn't plan to join, and 81 percent said the George W. Bush administration should extend the deadlines. A Gallup poll from about the same time showed 53 percent of seniors flatly believed the law wasn't working. But the program didn't fail. Mark McClellan, who led that rollout effort, recalled that 'by the spring of 2006 most seniors signed up. Every senior had heard about this program or knew people in it. And everyone was familiar with the delayed enrollment penalty. Those things together led to a big bump before open enrollment ended.' Today Medicare Part D is widely considered a success. More than 90 percent of seniors say they're happy with it." [WaPost]
DEPORTATION RELIEF SEEN AS MOST IMPORTANT IMMIGRATION POLICY - Pew Research: "While lopsided majorities of Hispanics and Asian Americans support creating a pathway to citizenship for unauthorized immigrants, two new surveys from the Pew Research Center also show that these groups believe it is more important for unauthorized immigrants to get relief from the threat of deportation. By 55% to 35%, Hispanics say that they think being able to live and work in the United States legally without the threat of deportation is more important for unauthorized immigrants than a pathway to citizenship. Asian Americans hold a similar view, albeit by a smaller margin—49% to 44%."
Pew]
MOST THINK AFGHANISTAN WAR WASN'T WORTH IT - Scott Clement: "Americans express near-record discontent and regret over the 13-year war in Afghanistan after its 2,289 U.S. casualties and more than 19,000 wounded soldiers, according to a new Washington Post-ABC News poll. Fully 66 percent of Americans say the war, which began with nearly unanimous support, has not been worth fighting. A majority of Americans have doubted the war's value in each Post-ABC poll since 2010, with current disapproval only one percentage point below July's record mark. A record 50 percent now "strongly" believes the war is not worth the costs. Despite the skepticism, a 55 percent majority favors keeping some U.S. forces in Afghanistan going forward for anti-insurgency operations and training, while just over four in 10 prefer removing all troops from the country." [WaPost]
A DEFENSE OF THE ANECDOTE... - In a much discussed article, former White House reporter Sam Youngman, who has decamped D.C. for the Herald Leader in Lexington, KY, offers this defense of anecdotal interviews: "At least once a week, I hear conventional wisdom from D.C. or New York upended by words directly from the mouths of a Kentucky voter. Democratic Senate candidate Alison Lundergan Grimes's campaign is described as strong nationally, but it looks like a hot mess up close. Sen. Rand Paul (R-Ky.), often mocked by cable news, is cheered and encouraged to run for president at small restaurants in impoverished mountain towns throughout Eastern Kentucky. It's only been three months, and I'm still trying to kick some of the bad habits that seemed normal after 10 years in D.C. Like relying on polls instead of talking to voters." [Politico]
...Produces the obvious response via Twitter:
-Josh Barro: "Contra @samyoungman, reading polls is a much better way to understand public sentiment than talking to voters." [@jbarro]
-Steve Koczela: "On Sam Youngman's piece in Politico, why not both read polls AND talk to voters? You can learn things by doing both." [@skoczela]
-Logan Dobson: "You should read polls precisely BECAUSE you want to know what voters think!" [@LoganDobson]
-Nate Cohn : ""The funny thing about this Politico article advocating talking to voters? The election analysts uniformly think Grimes is a huge underdog...Here are two options for talking w voters: hang around eastern KY restaurants, or talk to a representative sample of 600 across the state" [@Nate_Cohn here] and [here]
-Jonathan Bernstein: "For reporters, or for anyone trying to understand politics, information is good. Quantitative (polling) or qualitative (interviews). More is better. But realize, accept and acknowledge the limitations of whatever information you're working with….The most important thing for reporters is to learn about the limits of whatever information sources they use, and give a clear picture of exactly what they can say with confidence, what is merely suggestive and what should be pretty much ignored. And because each type of source has different strengths (and weaknesses), it's almost always going to be better to use an all-of-the-above approach, if at all possible." [WaPost]
And Blumenthal shares a thought about focus groups - On reading Youngman's initial description of D.C.'s insularity, HuffPollster's first thought of was of how helpful I found focus groups back in the days when I was paid to conduct polls for political campaigns. We conducted such group as a supplement to representative surveys, not as a replacement, but it was rare for me to view a focus group among a gathering of voters and not come away having gained some new insight lost between the lines of data (or at very least, with a new theory to test through a more rigorous survey). My tweet of that thought produced some noteworthy pushback:
-Jonathan Bernstein: "Careful: because they seem "scientific", focus groups are more dangerous for reporters than regular interviews. [@JBPlainblog]
-David Lauter: "Some very good [reporters have] been led very astray by focus groups for that very reason." [@DavidLauter]
-Greg Sargent: "I'm big believer in interviews with voters. you can go pretty deep into what they are thinking" [@ThePlumLineGS]
-Bernstein, replying to Sargent: "Good reporters can get a lot out of real-people interviews; just need to respect the limitations...[@JBPlainblog]
-Matthew Hubbard: "I've seen too many focus groups steered in the direction the customer wanted to have much faith." [@ConfidenceOfVic]
HUFFPOLLSTER VIA EMAIL! - You can receive this daily update every weekday via email! Just enter your email address in the box on the upper right corner of this page, and click "sign up." That's all there is to it (and you can unsubscribe anytime).
THURSDAY'S 'OUTLIERS' - Links to more news at the intersection of polling, politics and political data:
-Christie and Clinton lead in Pennsylvania's 2016 primaries. Quinnipiac]
-The Fox News poll finds President Obama ending the year with low ratings, and Obamacare unpopular but predicted to remain law. [Fox]
-Americans have little appetite for the cuts required by a "grand bargain." [Pew Research]
-Nearly two-thirds of working-age black households and nearly seven-tenths of Latinos do not own assets in a retirement account. [National Journal via @RonBrownstein]
-58 percent of Americans voters have no opinion of Megyn Kelly. [PPP]
-40 percent of Americans don't get enough sleep. [Gallup]
-Dennis Junius and Jennifer Agiesta review public softening on marijuana legislation. [AP]
-Joshua Tucker sees a 'citizenship' opportunity for Republicans.** [WaPost's Monkey Cage]
-The Times publishes an interactive map showing the uninsured by Census tract. [NYTimes]
-Once again, Americans rank "whatever" as the most annoying word or phrase in conversation. [Marist]
BEFORE YOU GO
PHOTO GALLERY
Lies And Distortions Of The Health Care Debate