Milestone or not, Claude Giroux won't forget this goal for a while. The 25-year-old center scored his 100th career goal in stunning fashion as he rallied the Philadelphia Flyers past the Columbus Blue Jackets.
With the Flyers trailing the Blue Jackets 3-0 entering the final period on Thursday night, Giroux nearly flipped the scoreline all by himself. He tallied his 99th career score to level the game at 4-4 with 16:14 gone by in the third period and the game-winning goal came just over two minutes later. Not only was the centennial goal enough for the win but it was arguably the goal of the year. As he was falling to the ice, Giroux managed to unleash a backhanded, no-look shot that somehow found its way past Columbus goalie Curtis McElhinney's glove and into the top corner of the net.
"I don't know what happened. Just trying to get it on net," Giroux told reporters after the game, via The Associated Press. "It was in the air, end of the shift so I was a little tired."
Not only did Giroux score the final two goals of the game comeback but he notched two assists as the Flyers scored five goals in the third period to pull off the stunning rally.
After the win, he was photographed with his souvenir.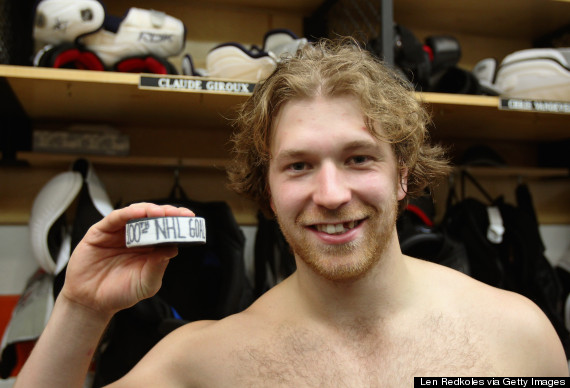 BEFORE YOU GO
PHOTO GALLERY
2013-14 NHL Highlights