Christmas cards are meant to wish loved ones a happy holiday season, or so they say. More realistically, the tradition is an attempt for families to prove to everyone in their contact book that they are still living and their kids have turned out prettier than expected.
Either way, celebrity family cards often end up a little too over-the-top, kitschy, or just plain bizarre. The world is looking for a spectacle, after all. The results are a range scaling from uncharacteristically classic photos to extravagant compositions. You can judge for yourselves …
The Kardashian Family
This
David LaChapelle photograph
shocks in a way you'd expect of a Kardashian mailing. We're just not sure which is weirder: the disembodied mannequins or the fact that, as the only man featured on the card, they stuck Bruce Jenner in a cashier's box.
family Christmas card 2013 🎉 pic.twitter.com/20Zg0TeCG8

— Kendall Jenner (@KendallJenner) December 2, 2013
Kelly Clarkson
Clarkson's first card since her marriage into the Blackstock family is adorably awkward. Even so, we want to know what they did to deserve being tied up by Santa…
Merry Christmas from the Blackstocks! Share your photos for a chance to win! More info here: http://t.co/dkJtVPeG1C pic.twitter.com/lzn0LnaiBV

— Kelly Clarkson (@kelly_clarkson) December 10, 2013
Hugh Hefner
Hefner and his wife stuck with a traditional and classy card. Whether or not that is an accurate portrayal of his lifestyle is up to you.
This year's Christmas card pic.twitter.com/F5xcsKkmzz

— Hugh Hefner (@hughhefner) December 12, 2013
Snooki and JWoww
The only thing bigger than their hair is this "Jersey Shore" duo's sense of humor. Well done.
Our ugly sweater old school pics are in In Touch 😂😂 #sexy pic.twitter.com/xYjhQ5ON9H

— Nicole Polizzi (@snooki) December 18, 2013
Ellen DeGeneres and Portia de Rossi
Ellen and Portia went for a spoof of Kanye and Kim's "Bound 2" video for their card, this year. Let's just say Ellen has never looked better in tie–dye.

Naya Rivera and Big Sean
Big Sean and Naya Rivera went with a … LEGS …

Mena Suvari
This "Awkward Family Photos"–inspired card will make you fall in love with Suvari. It's just that simple.
🎄 #HAPPYHOLIDAYS 🎄
Love, @salsancheztat2s @mena13suvari and Ms. Blanca 🎅 Thanx to @reveckan 🙏😘 pic.twitter.com/g9Z60uFKyM

— Mena Suvari (@mena13suvari) December 10, 2013
Kobe Bryant
The Bryant family looks as beautiful as ever in their latest holiday card. Kudos.

Leann Rimes and Eddie Cibrian
This has to be the most adorable family Christmas card that's ever been made. It just has to be.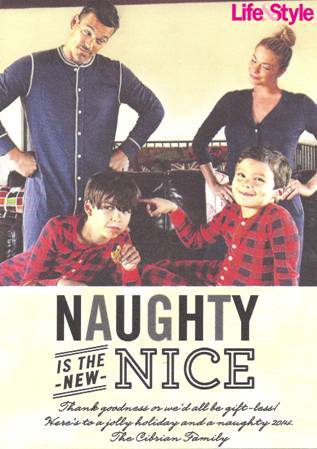 Rebecca Romijn and Jerry O'Connell
From the matching pajamas to the five furry friends, the O'Connell family Christmas photo is one to remember.
Happy Holidays from all nine of us!! pic.twitter.com/SFFm1mnWhm

— Rebecca Romijn (@RebeccaARomijn) December 16, 2013
BEFORE YOU GO
PHOTO GALLERY
Celebrities Wish Happy Holidays