The original George Zimmerman painting posted to eBay last week has officially sold... for a whopping $100,099.99.
Zimmerman, the ex-neighborhood watchman who was acquitted of the murder of 17-year-old Trayvon Martin, attracted the media's attention once again when he listed an 18 by 24 inch canvas on the online market place on December 16. The painting showed a waving blue flag adorned with the text "God, One Nation, With Liberty And Justice For All."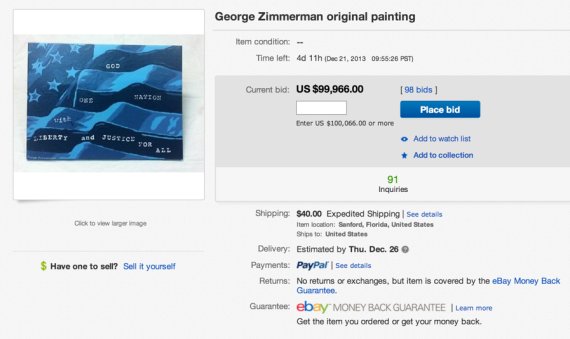 Zimmerman pledged to hand-deliver the painting to anyone in the continental U.S. According to Time, the winner -- one of 96 bidders -- has not been disclosed.
Zimmerman's brother, Robert Zimmerman Jr., has already confirmed the painting's validity to My News 13; however, as Gawker notes, the painting has yet to be authenticated by eBay.
The eBay listing was accompanied by this message from Zimmerman:
"First hand painted artwork by me, George Zimmerman. Everyone has been asking what I have been doing with myself. I found a creative, way to express myself, my emotions and the symbols that represent my experiences. My art work allows me to reflect, providing a therapeutic outlet and allows me to remain indoors :-) I hope you enjoy owning this piece as much as I enjoyed creating it. Your friend, George Zimmerman."
Before the painting stunt, it was revealed last month that Zimmerman is $2.5 million in debt. The news came out shortly after he was arrested on charges of domestic assault against his girlfriend.
BEFORE YOU GO
PHOTO GALLERY
Twitter Reactions To Zimmerman Trial Verdict