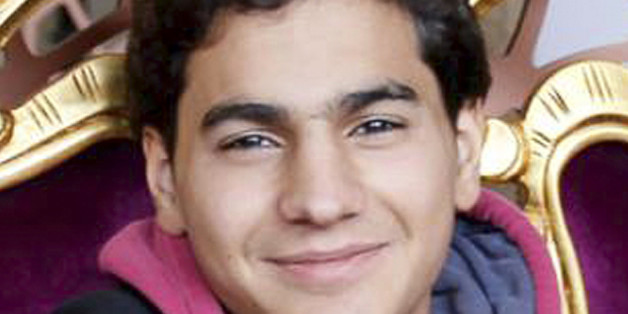 Reuters is facing scrutiny after the death of Syrian photographer Molhem Barakat, a teenager who was freelancing for the news organization in Syria.
Barakat died on Friday while taking photos of fighting at a hospital in Aleppo. He had been taking pictures for Reuters since May. Reports from news outlets put him between 17 and 18 years old, though Reuters' report about his death did not include his age.
On Sunday, journalist Corey Pein wrote that he had "questions about how it was that an inexperienced teenager came to be working for a major news organization in a war zone." The BBC's Stuart Hughes, Pein said, also sent Reuters his own inquiry about Barakat's age, whether Barakat received training to work in a war zone and how the news organization paid him.
"We are deeply saddened by the death of Molhem Barakat, who sold photos to Reuters on a freelance basis," Reuters said in a statement to Hughes. "To best protect the many journalists on the ground in a dangerous and volatile war zone, we think it is inappropriate to comment any further at this time."
Hughes and Pein were not the only ones asking Reuters to comment on Barakat's age and its relationship with him. Photographer M. Scott Brauer of dvafoto echoed Pein's concerns. Journalist Hannah Lucinda Smith knew Barakat and mourned his death on Friday. She recalled the concerns she had when he began working as a photographer, writing:
"He often asked me if he could work with me and I refused, because I didn't want the responsibility of an eager seventeen year old with no war zone training and little experience on my shoulders. Soon afterwards I saw that he was filing photos for Reuters. I hope that they took responsibility for him in a way that I couldn't, and I hope that if he was taking photographs as he died in the hope of selling them to that agency, they also take responsibility for him now."
News of Barakat's death reinforces how dangerous Syria has been for journalists and people living in the country. In November, the Committee to Protect Journalists said that at least 30 journalists have been kidnapped and 52 have been killed since early 2011. At least one hundred thousand people have died since the beginning of the civil war, according to Reuters.
BEFORE YOU GO