It's a Christmas gift that Jim Nevarde wishes he could erase from his memory: An IPod Classic box that was filled with erasers instead.
Nevarde recently purchased the IPod from a San Diego-area Target for $293 including the warranty and wrapped it up for his wife.
But when she opened it up Christmas morning, the box contained nothing but erasers and index cards.
"About five of them fit exactly in the space where the iPod goes," he said according to NewsNet5.com. "It was a little strange. Obviously, somebody got in there and rewrapped it with shrink-wrap."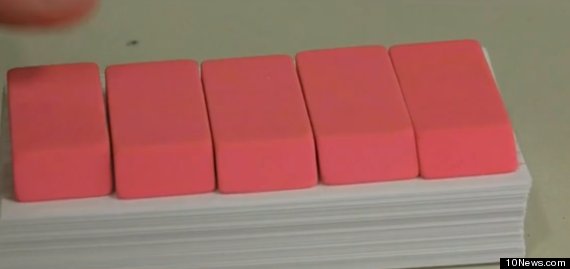 Nevarde returned the not-iPod to a different Target on Thursday, expecting the employees to be skeptical about the claim.
The Target employees did replace his iPod, but Nevarde had the clerk open the box before he left the store.
"Sure enough, it's full of erasers," Nevarde told the station. "Different color erasers but it's full of erasers again."
Eventually, store employees found an iPod box that actually contained an iPod.
Nevarde said Target officials suspect a distributor is making the swap somewhere between the Apple factory and the store.
Target officials have released an official statement about the iPod Eraser incident, according to WCPO.com.
"At Target, we are committed to providing our guests with an outstanding shopping experience. We take this incident very seriously and worked directly with the guest to resolve the issue and make it right. We are looking into this incident and have no additional information to share."
"Now I'm thinking what about Walmart? What about all the other retailers that have iPods? They'd better start checking," he told KFMB-TV. "It could be, I'm assuming, a nationwide recall on these just to see what's in there."
BEFORE YOU GO
PHOTO GALLERY
Dumb Criminals: Mugshot Gallery