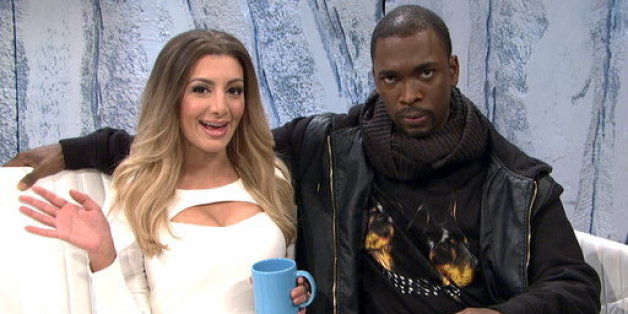 Kanye West has spent a large portion of 2013 getting mocked; not even Barbara Walters could pretend to take him seriously, even while honoring West among her "Most Fascinating" people. Walters wasn't alone: Jimmy Kimmel, James Franco and the writers of "Saturday Night Live" all took shots at West throughout 2013, leaving some to wonder whether the jokes were just proving Kanye's point. "Jimmy Kimmel did everything Kanye kept explaining always happens to him, not being taken seriously as a black creative," Ayesha Siddiqi wrote on Twitter following a parody the late-night host did in September.
Now, with #NODISRESPECTTOKANYE and #ALLDISRESPECTTOTHOSEMOCKINGKANYE, we bring you the year in Yeezus parodies.
Kimmel's Kid Interview
Parodying Kanye's interview on BBC1, Jimmy Kimmel reenacted the exchange in the form of two children just literally reading the transcript while drinking milkshakes (called "Kanye Kid (re)Kreation"). "Jimmy Kimmel is out of line to try and spoof in any way the first piece of honest media in years," Kanye wrote. "I don't take it as a joke…you manipulative media mutherf--ker."
James Franco and Seth Rogen's "Bound 3"
Just days after Kanye released the music video for "Bound 2," James Franco and Seth Rogen paired up to recreate the video frame for frame. While it mostly got a positive media reaction, with The Daily Beast calling the video "hilarious" and BuzzFeed alleging it was "THE GREATEST," there were some who wondered whether Franco and Rogen's satire was homophobic. "Is the joke, rather, that 'Bound 3' features two guys snuggling on a motorcycle, rather than, you know, Kanye West and Kim Kardashian, a guy and a girl, as in the original?" Jody Rosen asked over at Vulture. "Are we that tickled, at this late date, by the spectacle of two men making out?"
"SNL's" "Waking Up With Kimye"
"SNL's" fake Kimye morning show was one of their most well-received sketches of the year. The couple, however, was less than happy with the way they were portrayed. Rumors spread that Kanye was refusing to ever return to the show again.
"SNL's" "Bound 2"
"SNL" debuted their parody of "Bound 2" in the form of a Christmas installment of the aforementioned talk show sketch, "Waking Up With Kimye." It was basically just "Bound 2" but with holiday accoutrements and exaggerated humping. Really original stuff.
The Daily Currant's Fake Mandela Interview
A LOT of people got angry at Kanye over the Daily Currant's fake Mandela interview. The fake and definitely not real article included such offensive quotes as, "Mandela was working in South Africa, which has, like what, six people? I started my magic here in the USA and then I took my business global," and "I liberate minds with my music. That's more important than liberating a few people from apartheid or whatever." Kanye addressed the outrage, saying, "Despite recent media reports, I've never said anything to dishonor or trivialize the life or transition of one of the most inspiring leaders ... At a young age my mother taught me the importance of his work. Mandela sacrificed his life for the betterment of mankind. Thank you, Mandela, for your life's work and may it serve as a guiding light to illuminate our future."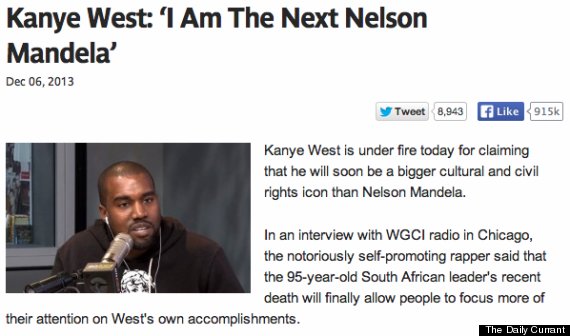 BEFORE YOU GO
PHOTO GALLERY
Kim Kardashian and Kanye West