Pizza lovers had a lot to be thankful for in 2013. From the invention of amazing new kinds of pizza, to the exciting places it traveled, to the new and bizarre pizza-themed tunes, this should be remembered as one of the best years ever for pizza.
1. Macaulay Culkin joins "The Pizza Underground."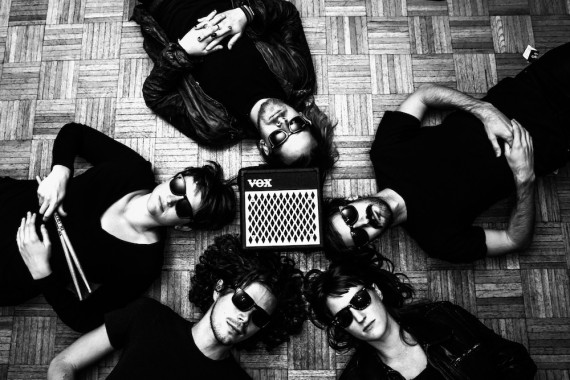 Macaulay Culkin is in a band called The Pizza Underground, which plays pizza-themed covers of Velvet Underground songs. Considering Lou Reed's recent passing, longstanding curiosity of what Culkin has been up to since "Home Alone," and of course, the universal love for pizza, the band became a viral success overnight, getting gig offers around the world. You can watch a video of their first show here.
Image: Bandcamp / The Pizza Underground
2. The "Wrecking (Meat)ball" pizza is born.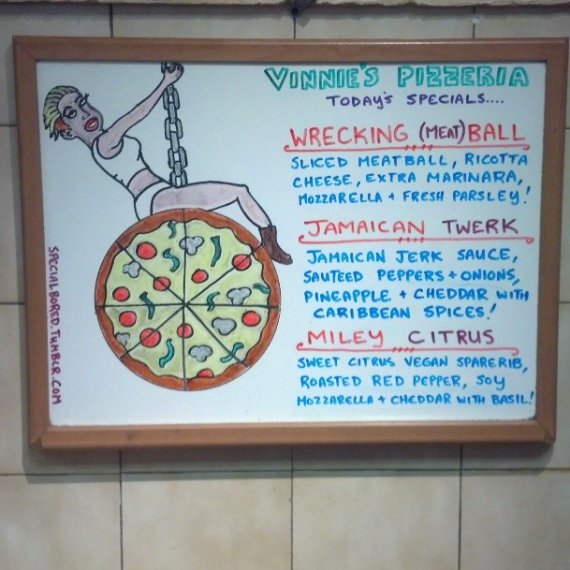 Vinnie's Pizzeria in Brooklyn, New York, is known for creating pop culture-themed slices, like the Arrested Development-themed "I've made a huge mis-STEAK." But they really pizza-topped themselves with this Miley Cyrus-inspired slice.
Image: Instagram / @vinniesbrooklyn
3. A hostage situation is successfully ended with pizza.
Police were surprised to discover that a man who had taken five hostages only demanded a pizza and a bottle of Sprite. After he was given the food, he released all the hostages and he was subsequently arrested. It is unclear whether he still got to eat the pizza.
4. Someone invents the perfect breakup strategy.
5. Pizza goes to space.
Members of the chiptune rock band, Anamanaguchi, took a very giant leap for mankind when they sent a slice of pizza to space after raising funds to do so through a Kickstarter campaign where they raised $277,399 for special projects.
6. A pizza slice did the walk of shame.
This photograph was taken at 6:30 a.m. presumably after an extra saucy night.
7. Chipotle creates a secret pizza restaurant.
Chipotle secretly opened up a pizza restaurant in Boulder, Colo., called Pizzeria Locale, and now they have plans to expand. Eleven-inch pizzas were being sold for just $6.50. Unfortunately, for now it seems as if Pizzeria Locale is staying in Colorado, but hopefully this will change in the very near future.
8. A deliveryman still delivers a pizza after his car is hijacked at gunpoint.
Instead of immediately running away after being held up, a delivery driver for Papa John's in Atlanta went on to deliver a pizza.
9. An elderly man has the audacity to order a pizza from a restaurant he just crashed into.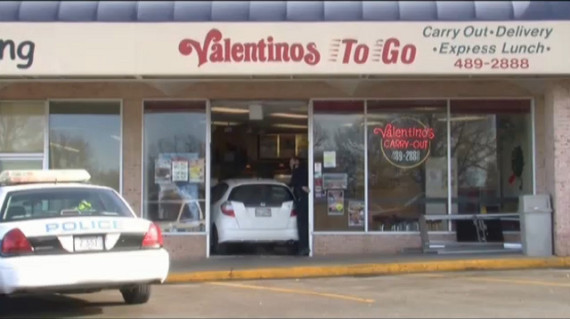 An elderly man in Nebraska accidentally crashed his car into this pizza place and then asked if he could still order while he waited for emergency crews to arrive. We may never know if the man got his pizza.
Image: Screenshot from Gawker via KLKN
10. Bryan Cranston makes another perfect pie toss on Jimmy Fallon.
During Jimmy Fallon's "Breaking Bad" parody, "Joking Bad," Bryan Cranston made a cameo appearance to reenact the infamous Walter White scene where he throws a pizza on to the roof of his family's house. Apparently Cranston miraculously accomplished the original throw in one take.
11. The sexy pizza costume is invented.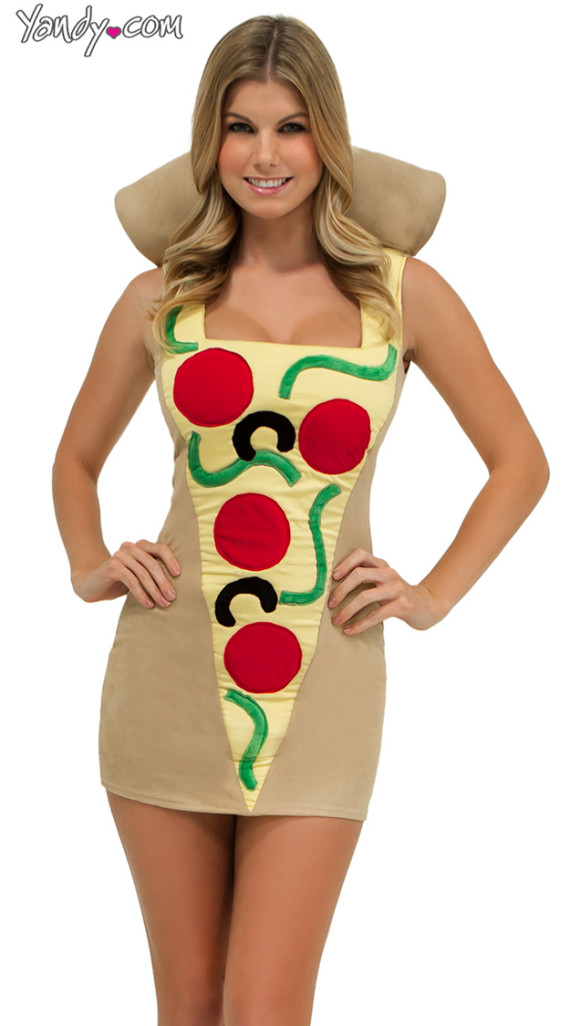 Next year's unnecessarily promiscuous Halloween costume, for only $49.97!
Image: Yandy
12. Jon Stewart tells Chicago their pizza isn't real.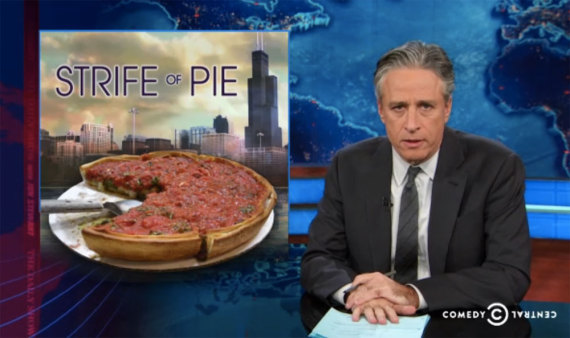 After New York City took the country's tallest tower title from Chicago -- One World Trade Center is now taller than Chicago's Willis Tower -- Stewart added to the rivalry by going on an epic rant about how Chicago pizza isn't real pizza. This caused a massive stir, which ended up turning into a back and forth battle between Stewart and Chicago Mayor Rahm Emanuel.
13. A pizzeria becomes a study hall.
The Greenville House of Pizza in Vermont offered special pizza rates to students who were doing homework or those who ended up getting good grades. Every afternoon until 5 p.m. students doing work could get slices for just $0.35.
14. A ton of Red Rangers eat pizza together.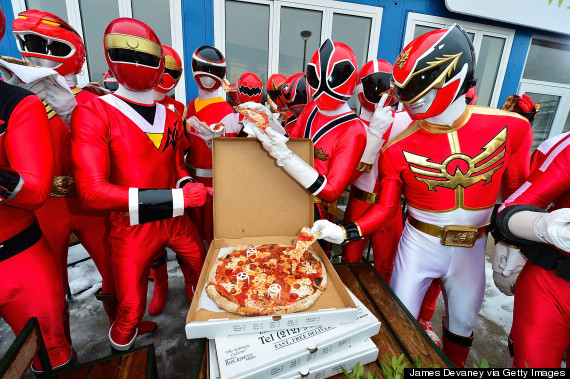 This massive group of Red Power Rangers shared slices from Lombardi's Pizza in New York City during a celebration of the show's 20-year anniversary.
15. The real-life pizza button.
This extra special pizza phone was discovered in a Country Inn & Suites in Niagara Falls, Ontario and sparked fits of jealousy across the internet. Of course, if you aren't so lucky to have a dedicated pizza button on your landline, there is an app for that.
16. A pizza walk to not remember.
This extremely intoxicated York St. John student in England was making his way home from a pizza shop called Kings when a friend caught him and shot this video.
17. Pizza Hut manager refuses to open on Thanksgiving.
When this manager was fired after refusing to open his Pizza Hut franchise in Elkhart, Ind. on Thanksgiving and instead giving his employees the day off, it caused a national uproar. He ended up being offered the job back and received an apology.
18. The "Used To Be A Pizza Hut" tumblr returns.
"Used To Be A Pizza Hut" is a great tumblr that rounds up stores that occupy buildings that clearly used to be Pizza Huts. Updates on the site had stopped in 2008, but 2013 saw its triumphant return.
19. Pizza Hat.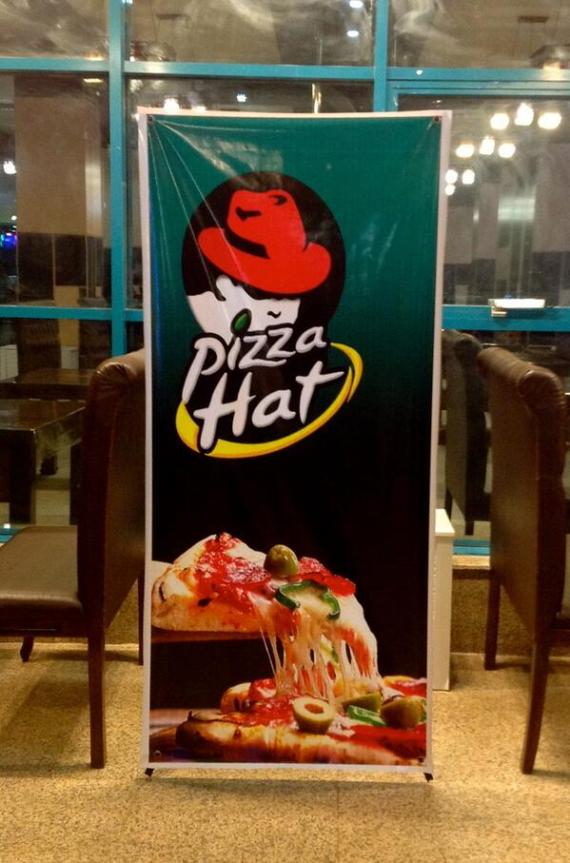 Iran has quite a few knockoffs of American chains popup here and there, including a now-closed "Mash Donalds" and the amazingly named "Pizza Hat."
Image: Twitter / @LordMaster_Owen
20. A Pizza Hut bathroom in Long Island is haunted.
The bathroom of a Long Island Pizza Hut is apparently haunted by the ghost of "a man or a woman either committed suicide or was murdered in the bathroom" when the restaurant was still a "Jack In The Box," according to paranormal experts. If you want to watch "undeniable evidence" of the ghost's existence, you should watch this video.
21. The Pizza Hut Cheeseburger-Stuffed Crust is delivered.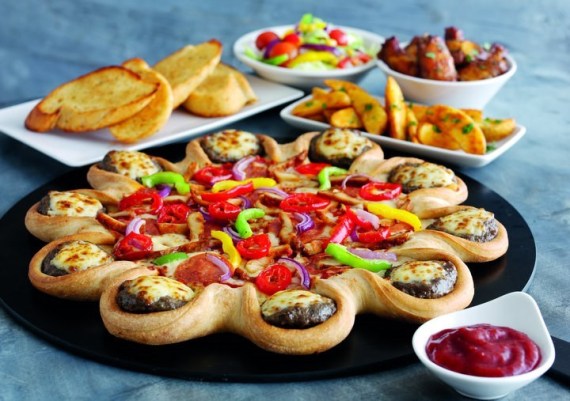 Although the actual result of the UK's Pizza Hut Cheeseburger-Stuffed Crust experiment may have ended in soggy failure, at least by the looks of this photo, the creativity and daring to dream to such great pizza heights is worthy of some sort of pizza-shaped medal. Although pizza as we know it is already perfect, those who strive to innovate and advance the lives of pies deserve our respect. This pizza star burned too bright in the oven, however, and is no longer available.
Image: Pizza Hut UK
22. Kobayashi eats a whole pizza in under a minute.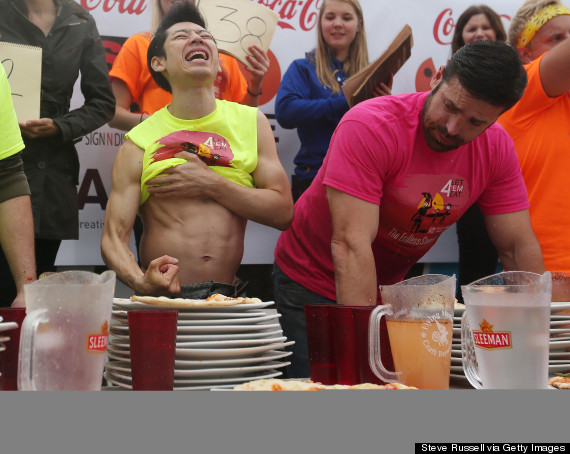 World champion eater Kobayashi was hired to attend a Super Bowl party and eat a Domino's pizza in under a minute. He did it. More recently he ate 10 pizzas in 12 minutes to defend his pizza-eating champion status.
23. The laser gun pizza cutter revolutionizes slicing.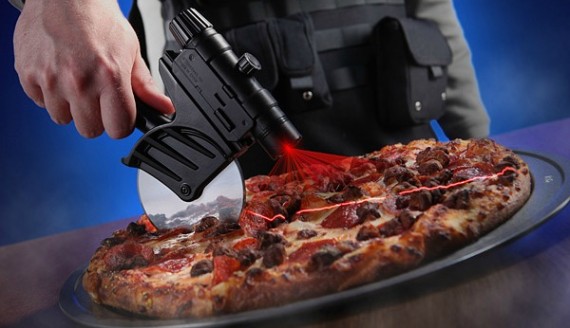 This tactical laser guided pizza cutter can be bought for $19.99.
Image: ThinkGeek
24. A Brooklyn man becomes a Guinness World Record holder for owning 595 pizza boxes.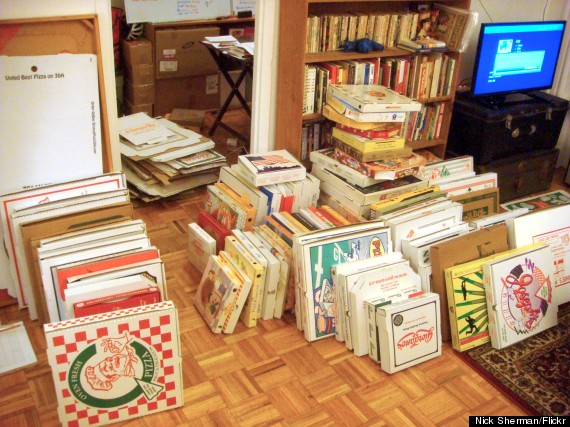 Scott Wiener was awarded a Guinness World Record this year for his pizza box collection of 595 boxes, seen here in his Brooklyn, New York, home. You can take a pizza tour with Wiener if you want to shake his hand or buy him a slice.
25. Patrick Stewart eats his "first" slice of pizza ever.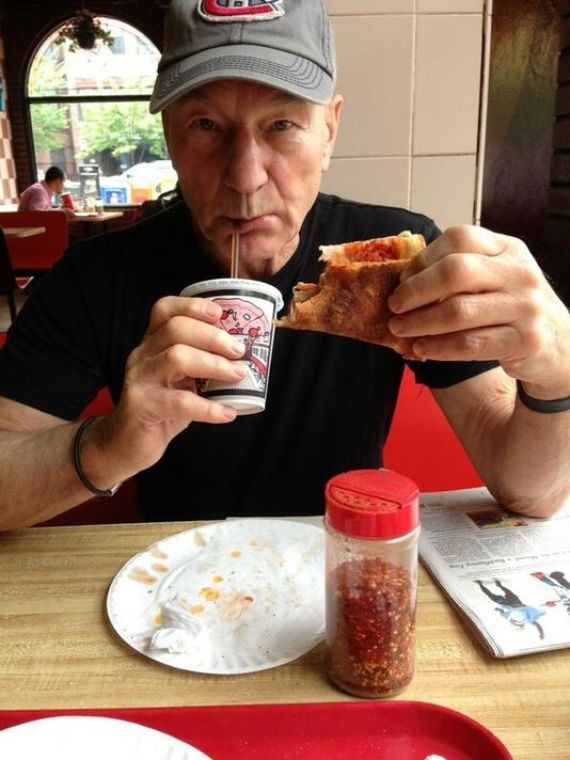 When Patrick Stewart tweeted that he had just had his "first ever pizza 'slice,'" many news outlets/fans/pizza-lovers were pretty confused at how we could have gone 72 years without ever having a slice of pizza. The Daily Intelligencer ended up asking Stewart to clarify in their "unending quest for the Truth," and they found that the actor and his fiancée (now wife) were hungover in this pizza quest and that Stewart had eaten pizza before, just never a "slice" of pizza. Up until that hungover morning he had been eating pizza with a fork and knife. Still weird.
Image: Twitter / @SirPatStew
26. Pizza vending machines are discovered in Croatia.
We can only hope that these 24-hour pizza vending machines from Croatia make their way to the United States sometime soon.
27. The birth of the falafel pizza.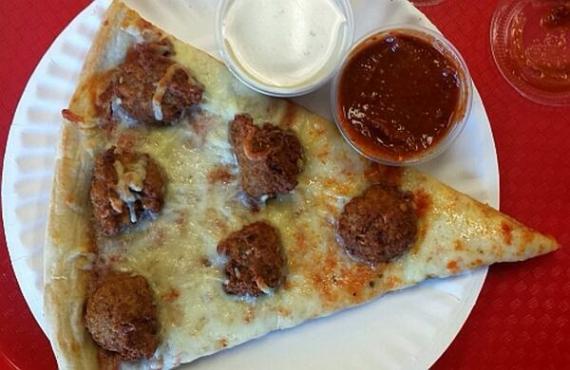 Benjy's Kosher Pizza Dairy Restaurant and Sushi Bar in Queens, New York, is now home to the "falafel slice" which can be bought for $3.25.
Image: Twitter / @andhwang via Chopsticks + Marrow
28. Domino's starts offering a vegan pizza.
Domino's announced its first ever vegan-friendly pizza, which will have a soy-based cheese substitute and vegetable toppings. Unfortunately, the chain has only announced plans to sell the pizza in Israel for now.
29. The greatest event in pizza television history takes place.
Scott Oellkers, president of Domino's Pizza Japan, proved himself the year's best spokesperson in this Japanese commercial. You should add him on LinkedIn.
30. The legend of the $5 million pizza is born.
The first real-world Bitcoin transaction happened on May 21, 2010, when a pizza was successfully bought for 10,000 bitcoins, or about $25. As the value of Bitcoin has significantly risen since 2010, that purchase was estimated to cost $750,000 by Vice's Motherboard back in March. Now that Bitcoin value is hovering around $550, the pizza is now a $5.5 million purchase.
31. The future is promised 3D-printing pizza in spaceships.
NASA announced that they are trying to figure out a way to "3D print" food using powdered food as the "ink." Mechanical engineer Anjan Contractor was awarded $125,000 to try and complete the project. The first tested food will of course be pizza, which will require "building blocks for dough, dehydrated tomato sauce, and an anonymous 'protein layer.'"
32. DVDs that smell and look like hot pizza are released.
Domino's partnered up with ten local rental stores to offer DVDs with "special labels with flavored varnish," which smell and look like pizza after being heated up in DVD players. The rental choices included "Argo," "James Bond" and "The Dark Knight."
33. Famous artworks get a pizza makeover.
BuzzFeed designer Jen Lewis imagined what famous paintings would look like if they were actually about pizza. All of the GIFs are great but the above "The Pizza Night" is a true masterslice.
34. Pizza boxes featuring George Clooney are found.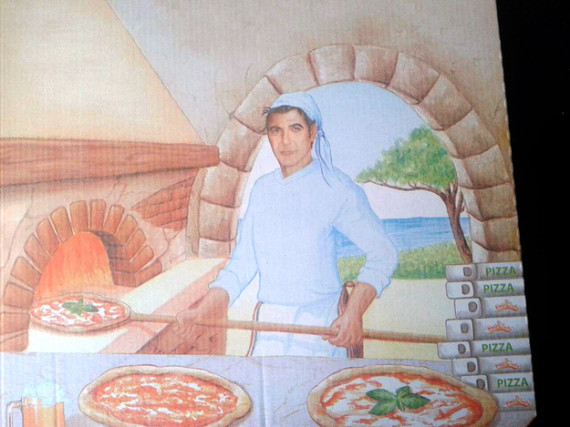 A pizza box found in Haslach, Germany, seems to feature George Clooney baking an authentic margarita pizza. For those screaming "Photoshop," it's real.
Image: Facebook / Morgan Frickey
BEFORE YOU GO
PHOTO GALLERY
Pizza Fails