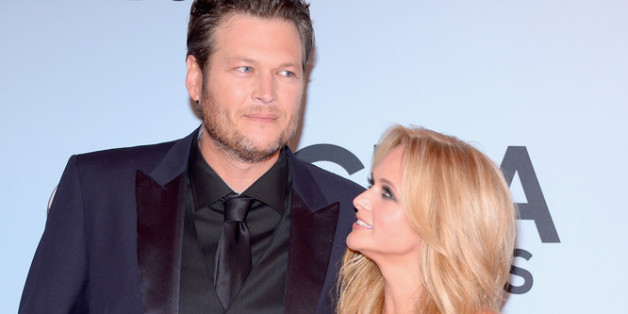 Another day, another Blake Shelton-Miranda Lambert divorce rumor. And Shelton is offering his hilarious two cents on the nonsense, again.
The National Enquirer's latest cover reads "Blake & Miranda: $100 Million Divorce!" The tabloid claims he has admitted to being an alcoholic, and it writes that she refuses to have his baby.
Thankfully, Shelton is able to laugh it all off.
Wow!! @mirandalambert and I are so excited about our 100 million dollars!!! Who knew you could make so much money just by divorcing?!!

— Blake Shelton (@blakeshelton) December 29, 2013
"@Darro19: @blakeshelton @mirandalambert So what are u going to do with the money?"
Mostly just crack and hookers... Oh and Taco Bell!!

— Blake Shelton (@blakeshelton) December 29, 2013
The country couple has had to deal with a slew of divorce and cheating rumors. In May, he told People magazine he has nothing to hide from his wife and lets her go through his phone, computer or drawers if she wants.
Shelton and Lambert met back in 2005 while he was still married. He divorced in 2006, and they began dating. The couple tied the knot in 2011.
"It's been a roller coaster," Lambert told W magazine last year. "He had to get a divorce. We were both trying to build our own careers. I moved from Texas to Oklahoma, which no one does. Before I moved, I called Blake and said, 'Look -- are you planning on screwing this up? Because I'm not going to move all my crap to a foreign state if you're going to screw this up.' "
BEFORE YOU GO
PHOTO GALLERY
Celebrity Couples