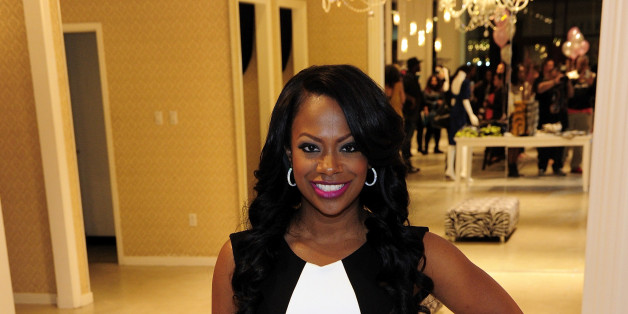 Is Kandi Burruss the fiercest housewife in Atlanta?
Kenya Moore has been laying into Burruss with the fat comments on this season of "The Real Housewives of Atlanta." Several weeks ago, Moore said that Burruss could afford to "skip a few meals" after she stopped at a Chick-fil-A fast food joint. In an episode that aired on Dec. 22, the ladies went on vacation together and Kandi hustled toward the nicest room at their bed and breakfast, to which Moore remarked "I don't know what got into Kandi. Maybe she smelled some Chick-fil-A or a burger upstairs."
Burruss isn't open for diet advice, though. After Moore's first remark, Burruss posted an Instagram photo in which she's wearing a sexy black leotard. She even co-opted Moore's signature, calling herself "gone with the wind fabulous."
She then donned a cutout one-piece bathing suit while on vacation with her family.
Moore later tried to make up for her remarks on her Bravo TV blog by posting what seems to be an apology mixed with an endorsement for her fitness video. She writes, "I made a wise crack at Kandi saying she could skip a meal. Kandi knows I think she has a great figure, so I'm sure she laughed as we have together about the 5-10 pounds she wants to lose. I'm not a tiny girl myself, and I appreciate a woman with curves. I won Miss USA at 128 lbs and I'm now a healthy 145-150 lb at 5'10". As women, we know 5 lbs is everything to us, but I simply encourage all women to be healthy. My best selling workout DVD "Booty Boot Camp" is available worldwide on Amazon.com."
Whether or not Kandi actually wants to lose 5-10 pounds, as Moore claims, is up to debate, but she's looking fabulous as she is.
RELATED ON HUFFPOST:
PHOTO GALLERY
BEFORE YOU GO
Real Housewives of Atlanta
PHOTO GALLERY
Real Housewives of Atlanta