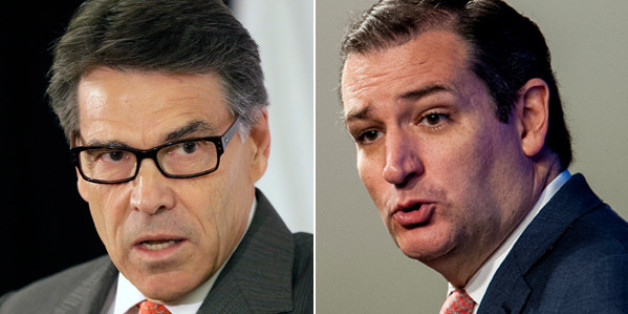 Sen. Ted Cruz (R-Texas) praised Gov. Rick Perry (R) as "terrific" in a recent interview, despite Perry's past jabs at the senator.
Cruz told the Dallas Morning News Texas' economy has been "remarkable" during Perry's tenure as governor. He also dismissed any talk of a 2016 battle for the White House with Perry, saying "it's too soon to worry about presidential politics."
"I can tell you this: As a voter, the person for whom I intend to vote in the 2016 Republican primary is whoever is standing up and leading, effectively fighting for free market principles and the Constitution," Cruz said.
In October, Perry snubbed Cruz, calling the government shutdown -- in which Cruz played a huge role -- "political theater."
On Sunday, Cruz said he has no regrets about his role in the shutdown, shifting blame to Democrats.
"I think it was absolutely a mistake for President Obama and Harry Reid to force a government shutdown," Cruz told ABC's Jonathan Karl.
According to a November Public Policy Polling survey, Texas Republicans would prefer to have Cruz as president over Perry. According to the poll, 32% favored Cruz as the 2016 GOP nominee, while only 3 percent would want Perry to be the party's nominee.
Read more from the Dallas Morning News here.
BEFORE YOU GO
PHOTO GALLERY
Sen. Ted Cruz