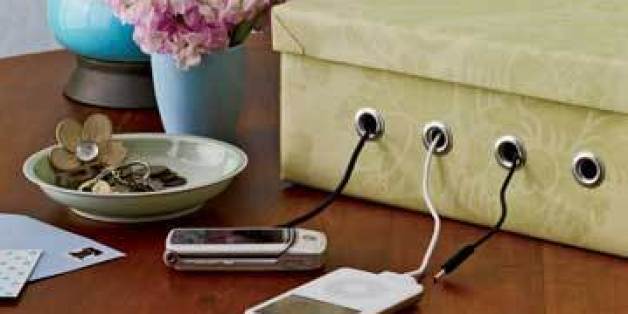 Fun and simple projects to help declutter your life:
1. Inspired by the animal wall pegs Marie-Kim Lavigne sells on Etsy, these agrarian organizers make the most of solid plastic toys (Schleich, from $5.75 each, 2 1/4" to 3 3/4"H; actionfarmtoys.com). First, cut each creature in half with a coping saw ($7.88; amazon.com). Then, using a no. 7 bit, drill a one-inch-deep hole in the center of the animal's flat end. Finish by twisting a 1/4"W x 2"L dowel screw ($1.18 for four; homedepot.com) into the hole, and mount the hardworking wee beast onto a wall using a drywall anchor.
2. Create the illusion of a metal nameplate, padlock, or latches on inexpensive wooden boxes ($14.97 for three; hobbylobby.com). First, download, print, and cut out our free hardware images. Next, paint your boxes with two coats of semigloss—we used Behr Premium Plus Ultra in Crushed Orange ($3.94 for eight ounces; behr.com)—allowing one hour of drying time after each coat. Working one image at a time, and using this photo as a guide, adhere the images to the boxes with Mod Podge. Let dry for 20 minutes, then seal each image with a topcoat of Mod Podge. Let dry for 20 minutes more before stashing supplies inside.
For the full story, visit our friends at Country Living.