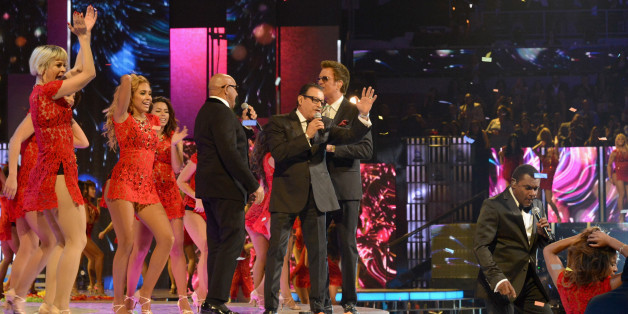 Following a GRAMMY nomination and three Latin GRAMMY wins last year, is the great announcement of Sergio George's Salsa Giants tour.
Super producer Sergio George and living legends of the Tropical genre are set to travel to different locations in North and South America throughout the year.
Each tour stop will feature select members of the Salsa Giants such as Oscar D' Leon, Willy Chirino, Cheo Feliciano, Andy Montanez, Jose Alberto "El Canario," Tito Nieves, Charlie Zaa, Silvestre Dangond and Nora from "Orquesta de la Luz."
"We are looking forward to taking the show on the road and allowing the world to experience this amazing collection of musicians brought together," George said in the press release by Top Stop Music.
He also said the Salsa Giants has been incredibly important to him and it has been amazing to see it succeed to this extent.
Now, the Sergio George Salsa Giants project is embarking in a new journey, beginning on February 21st in Mexico.
Dates and locations for the first leg of the 2014 tour are as followed:
Friday, February 21st – Arena Cuidad de Mexico – Mexico City, Mexico
Saturday, February 22nd – Expo Hall in Mundo Imperial – Acapulco, Mexico
Friday, February 28th – Hard Rock Hotel & Casino – Hollywood, Florida
Saturday, March 1st – Carnaval De Veracrus – Veracruz, Mexico
More dates will be announced over the coming months.
We are overly ecstatic because this tropical collective formed part of VOXXI's 2014 concert wish list.
The Sergio George's Salsa Giants project
Sergio George's Salsa Giants was unveiled in summer of 2012 at the Curacao North Sea Jazz Festival in front of over 12,000 music fans.
The project, which was released in a CD/DVD production, was a once in a lifetime concert experience as a select group of illustrious salsa musicians came together for a historical one-night event.
Salsa hits included are "Fabricando Fantasías," "De Mí Enamorate," Discúlpeme
 Señora," "Lo Que Está Pa' Ti," "Rebelión," "Yo No Se Mañana," "Un Verano En Nueva York," "Llorarás" and "Tu Amor Me Hace Bien."
The official tour kicks off after Sergio George swept three Latin GRAMMY awards last year for Producer of the Year, Record of the Year and Best Salsa Album for the Salsa Giants.
Sergio Geroge's famed salsa-group performed live at the 14th Annual Latin Grammy Awards last year, closing the event.
The project is nominated for the 2014 GRAMMY award for Best Tropical Latin Album.
Originally published on VOXXI as Sergio George's Salsa Giants announce the first dates of 2014 tour
BEFORE YOU GO
PHOTO GALLERY
71 Puerto Rican Celebrities