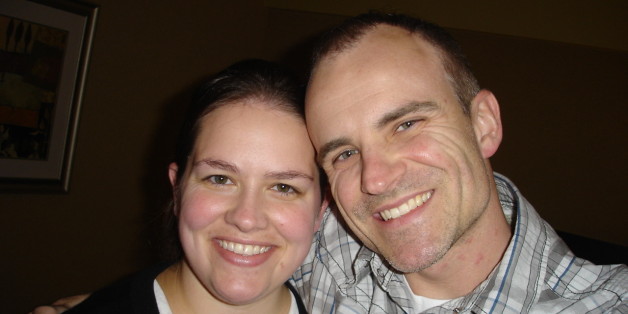 James "Darren" Mathis' disappearance is an ongoing mystery that his family likens to a form of emotional torture.
"It feels like that because we are stuck in a position where we have all these questions and no answers," Mathis' wife of eight years, Lisa, told The Huffington Post.
"It's terrible. It's devastating," she continued. "Everywhere I turn is a reminder of him. There is a huge void and not knowing is the worst part."
"Vanished in the night" is how Darren Mathis' wife describes his disappearance . He was there one minute and gone the next.
"Dec. 13 is when he disappeared," said Lisa Mathis. "I had come home that night from work and we went to bed really early because we were both really tired. We laid down at about 9 p.m. and when I woke up at 1:30 a.m., he was gone."
Left behind were Darren Mathis' personal effects, including his wallet and cellphone. The only items not accounted for are the pajamas he wore to bed and a coat that hung in the closet.
Lisa Mathis said she was dumbfounded by her husband's sudden and unexplained disappearance. After searching all through their Huntington, W.Va., home, she was preparing to search elsewhere when there was a sudden knock at the door.
"The police came and said they had found his car and wanted to know if he was home," she said. "I told them I had woke up and he wasn't here."
The location of the vehicle – parked on a nearby bridge that spans the Ohio River – is ominous. There was no sign of the missing man in or around the vehicle and the keys were missing. It is no far stretch for outsiders to surmise Darren Mathis had taken his own life. However, to his family, that theory is impossible to comprehend.
"The police look at this very logically," Lisa Mathis said. "They see where the car is and think he harmed himself. I am reasonable and realistic enough to know that appears to be what happened, but they don't know him. It's impossible. He's absolutely incapable of that."
Darren Mathis is a graduate of Marshal University and is employed by the Huntington Internal Medicine Group. He's 38 years old and has no known mental issues. According to his wife, he is happy-go-lucky and has never exhibited the slightest sign of depression.
"He's always happy," she said. "It's very hard for me to believe he would be in desperation so close to me and I would have no idea."
Lisa Mathis added, "Knowing him and how he is. I do not think he would be capable of doing something like this, especially with no note. It's just not him. He is always very thoughtful and very considerate. We don't do a whole lot outside of each other. We are each others' everything."
Authorities have searched the river for Darren Mathis, but have yet to find any sign of him. Multiple searches by friends and family members have also been unsuccessful.
The facts in the case don't add up to Lisa Mathis. She said she can't help but suspect her husband might have met with foul play.
"I think of different scenarios," she said. "I wonder, did he walk to his car to get something and someone was out there who forced him to get in the car? I don't know. There are all these things that could have happened and we can't move forward until we know the truth."
For now, Lisa Mathis and her family must wait for the answers they so desperately seek.
"Everywhere I turn is a reminder of him," she said. "There is a huge void. The last few weeks feel like one continuous hour. I can't think or imaging time going on for other people when mine is in complete shambles."
James "Darren" Mathis is described as 5 feet 11 inches tall, 145 pounds, with straight, graying hair. He has five tattoos and was last seen wearing black pajama pants and a white shirt. He was presumably wearing a blue jacket that is also missing.
Anyone with information about his whereabouts is asked to call the Huntington Police Department (304) 696-4444. For more information, You can visit a Facebook page devoted to the case.
BEFORE YOU GO