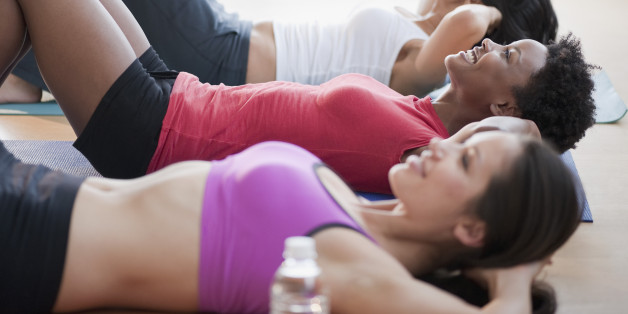 Expectation: You'll dash away from your desk, toss on sneakers, hit the elliptical for 20 minutes, take five more minutes to splash water on your face (or, even better, some of that fancy Evian water spray) and be back at your desk looking fresher than ever.
Reality: It's nearly impossible to look good after a midday workout.
And yet we're determined to incorporate them into our routines this year, even if just a few times a month. So we're going to get real about what you need to pull off the afternoon gym visit and not look disgusting when you return to your desk.
BEFORE:
Wear a work outfit without tons of layers -- and preferably a dress instead of pants.
You will probably be a little overheated when you finish your workout and loathe to pull tight layers onto your perspiring body. Give your body room to air out in a dress. By the time you get back to your desk, you'll be perfectly cooled down.
Bring an extra pair of undies or wear running shorts with undies built in.
Sure, it's gross, but we've got to talk about it: Working out gets you sweaty... everywhere. And you're not going to want to sit at your desk for the rest of your day in damp undergarments. So plan ahead.
Put your hair in a braid, not a ponytail.
A pony is OK, but often the hair on the underside of the ponytail, above the nape of your neck, often comes loose, reuslting in sticky hair on a sweaty neck. Tighten your strands into a French braid so that nothing comes out, keeping everything as fresh and dry as possible.
Use soft ponytail holders, not tight elastics.
Or better yet, try a scrunchie -- really anything to avoid getting dents in your silky smooth hair.
AFTER:
Use dry shampoo... but only if your hair is actually dry.
If you walk out of the gym with damp, sweaty hair, the powdery dry shampoo won't be as effective. (You all remember Ross' infamous leather pants scene from "Friends" -- "The lotion and the powder have made a paste!") If your hair is too wet, shake it out a little then put it back up in a braid or ponytail to air-dry. No one wants a paste situation.
Use oversized cleansing towelettes to wipe down your body in place of a shower.
Fresh-scented wipes like Simple Cleansing Facial Wipes or Garnier Nutrioniste Nutri-Pure Detoxifying Wet Cleansing Towelettes can do wonders when you're short on time and, uh, soap.
Choose tinted moisturizer instead of a heavy, pore-clogging foundation.
Don't hide your post-workout glow... and don't cake makeup over your newly-opened and refreshed pores. Try a thin tinted moisturizer instead of thicker foundation on that dewy skin.
Skip eye makeup... except for mascara.
Eye shadow on a damp face is a disaster. But mascara will glide onto lashes smoothly even with the dewiest of skin, and it magically gives you that wide-eyed, made-up look.
Spritz on some perfume.
Buy a mini size of your favorite scent, or have the folks at Sephora pour a pricey one into a free little sampler for you. (They'll do that, you know!) On your way out of the gym, will yourself to believe you look fresh and awesome -- and not hot and disgusting -- with a boost from your favorite fragrance.
Some cute ideas of what to wear:
PHOTO GALLERY
How To Spice Up Your Workout Wardrobe
Want more? Be sure to check out HuffPost Style on Twitter, Facebook, Tumblr, Pinterest and Instagram at @HuffPostStyle.