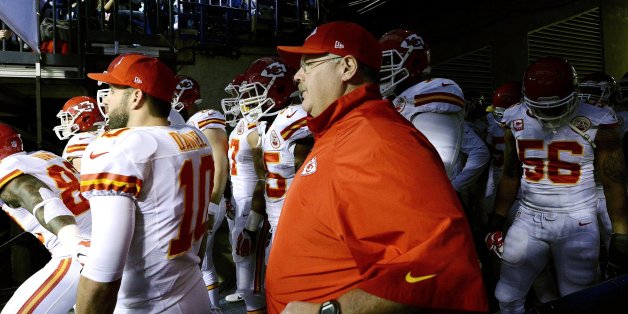 The law of conservation of fan euphoria requires that for one team to celebrate an epic comeback another must suffer a heartbreaking collapse.
While the Colts' historic 45-44 win against the Chiefs in their AFC wild-card playoff game was hailed in Indianapolis, the reaction in Kansas City wasn't quite as positive. The come-from-ahead loss was the second-largest collapse in postseason history and the team's eighth straight playoff defeat.
In response, the cover of the sports section of the Sunday edition of The Kansas City Star featured a provocative, not-quite profane headline and a photo of Colts quarterback Andrew Luck scoring a touchdown sure to be remembered in Indiana and Missouri.
The Sunday @kcstar is not a happy read for #Chiefs fans. pic.twitter.com/vACexDRWsi

— Jeff Rosen (@jeff_rosen88) January 5, 2014
The cover was first shared on Twitter by Jeff Rosen, the Sports editor of The Kansas City Star, on Saturday night. The use of a simple, brief headline seemed to be keeping with the spirit of comments made -- and perhaps not made -- by Chiefs coach Andy Reid after the defeat.
"Sometimes the game speaks for itself, so you don't have to say a whole lot," Reid told reporters when asked about his postgame remarks to the team.
BEFORE YOU GO
PHOTO GALLERY
PHOTOS: Chiefs vs. Colts