Fox News is pretty excited about dominating the ratings for the 12th year in a row. How excited? A full-page ad in the New York Post excited.
Check it out: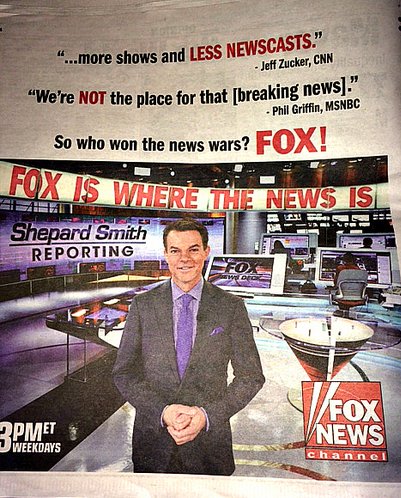 via Mediaite
The ad, featuring Shep Smith and his signature giant news screens, used quotes from its competitors, MSNBC and CNN, to declare victory in the "news wars." It referred to statements that CNN's Jeff Zucker made promising more "attitude," "more shows and less newscasts," and MSNBC chief Phil Griffin saying that breaking news is not his network's specialty.
Despite the bragging, no network had an easy year in 2013 as Fox News, MSNBC and CNN were all hit with lower ratings than in the previous year. In January, Fox News saw its worst primetime ratings in the key demo in 12 years.
BEFORE YOU GO
PHOTO GALLERY
Faces of Fox News