In what sounds like the plot of a feel-good holiday movie, Frenchman Laurent Le Bret finally found a job in a highly unusual way.
The 41-year-old Le Bret spent five months jobless, a familiar story given France's nearly 11 percent unemployment rate amid the country's worst crisis since 1997.
Fed up, Le Bret got creative and on Dec. 17 posted his CV to a roadside billboard along southern France's RN7 highway. "All I want for Christmas is a job," the sign read, along with Le Bret's qualifications.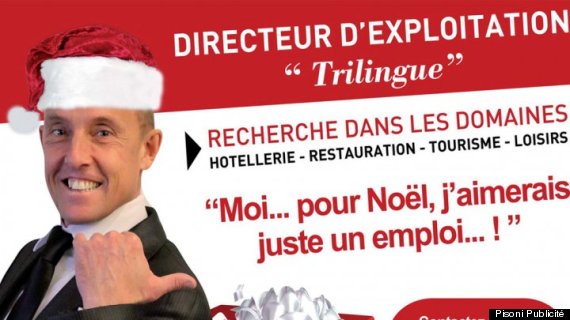 Ten days later, the "trilingual operations manager" had landed himself a job with the Azureva holiday resort, France 24 reports.
What's more, Le Bret seems to have scored the position without spending a dime, as the Pisoni Publicité advertising firm offered him the billboard space for free.
"We thought it was an interesting idea," the company's CEO told France 24. "When people come up with ideas like this we are always keen to see what we can do. We're very happy to prove that what we do works and that Mr. Le Bret is back at work."
France has been mired in a recession for much of the last year, reflecting a larger economic crisis that many European countries are experiencing as well. Despite French President Francois Hollande's pledge last summer to curb unemployment by the end of 2013, the jobless rate rose to a near-record high by the end of the year with little hope of fast improvement.
While encouraging, Le Bret's story is by no means an indicator of a changing tide for the roughly 3.3 million people still without work in France.