This is no regular breakfast date.
When Matthew Lee Chegwidden calls his friends over for a bite, a whole herd of deer comes running.
According to his Facebook page, Chegwidden regularly shares meals with his deer buddies by his Divide, Colo. home. He posted a video of one of their morning visits last month, and it went viral with nearly 195,000 shares.
He's also posted several photos of the deer looking perfectly at home on his deck.
Story continues below.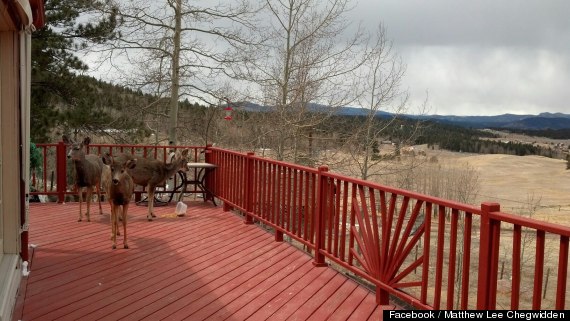 "My buddies seem to like waking me up by running around on my deck in the morning," he wrote last April. "But I enjoy seeing them everyday."
And these aren't the only forest friends Chegwidden has had over for a meal. A fox he calls Ben visits him daily for hot dogs, and he's even hosted a family of bears!
H/T: GodVine
BEFORE YOU GO
PHOTO GALLERY
13 Awesome Animal-Human Reunions