I don't know about you, but when I hear "New Year's resolutions", I think of tangible things like losing weight, drinking less alcohol, quitting smoking and finding a better job.
Resolutions I wouldn't expect on a list include searching for a new medical treatment plan, finding the right colorectal surgeon and having a life changing surgery.
I offer this alternate list of resolutions because in December of 2010, this was my list.
I remember so clearly how bad I felt at the end of that year, and how getting healthy felt like an intangible dream. I was so sick I didn't know if I could make it through the holidays in one piece.
It was actually the impending New Year, and everyone around me talking about their positive New Year's resolutions, that made me realize I was too miserable to go on. It was time for me to give in and to have my colon removed in a surgery that I had been avoiding for years.
That decision ultimately ended the nightmare I was living and gave me my health back! To this day, I feel thankful that the New Year had such a pivotal role in helping me move forward with something that truly did change my life.
My (Lack Of) Quality Of Life
I suffered through an extremely difficult ulcerative colitis flare up for more than four years. It began in 2007, just a few months after I married my (incredibly amazing) husband, Mike, and together we endured the physically and emotionally debilitating roller coaster that comes with ulcerative colitis.
About two years into the flare up, my brother in law, Dr. Joshua Arkin, approached me to talk about the potential positive outcomes of having my colon removed. The surgery is often recommended for patients with ulcerative colitis who don't respond well to medications. Josh was a third-year medical student at Tufts University at the time, and he was in his surgery rotation. He had just completed a presentation based on surgical interventions and outcomes for ulcerative colitis, a topic he selected because of his interest in my condition.
At the time, I truly appreciated him looking out for me, but I just wasn't ready to embark on something so permanent. As I used to say to my husband, I wouldn't consider getting a tattoo, how could I ever contemplate removing a vital organ from my body -– forever?
I didn't want to hear any more about the surgery (it scared me), and I wanted to hang on to hope that one of the medications would work for me so I could keep my colon. My husband and I were also hoping to start a family soon, and the surgery seemed like something that might infringe upon that plan.
In the meantime, my condition continued to get worse over the next two years and getting pregnant was never a consideration because I was too sick. My health continued to deteriorate and every medication-based treatment proved unsuccessful. At one point I enrolled in a year-long trial drug study, which ultimately failed me as well.
Around this time I started praying for health, something I had never done before. Unfortunately, nothing was relieving my pain and my prayers were going unanswered.
Finally Ready For Surgery
It was the winter of 2010 and our lives had been turned upside down by my disease. Our quality of life was non-existent, and I was back to the drawing board with my treatment options. There weren't many options left.
On New Year's Eve, Mike and I had tickets to see one of our favorite bands, Phish, perform at Madison Square Garden in New York City. I don't know how I made it through the show, but I remember watching the entire concert from the floor of MSG, not feeling physically strong enough to get up and stand for even one song.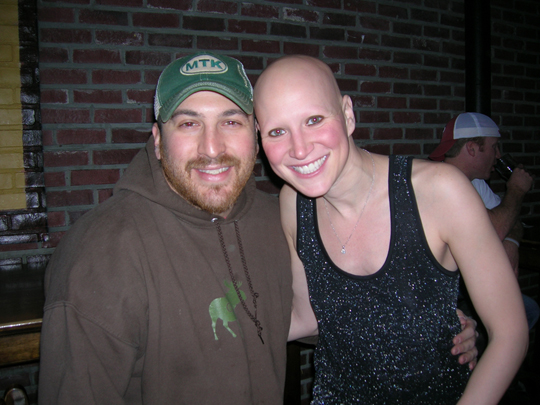 With Mike before the Phish Show. I guess I put on a good fake smile.
I got through it in one piece, but when I woke up the next morning, on January 1, 2011, I told Mike I had had enough. I was finally ready to have the surgery.
We immediately called my gastroenterologist at Mt. Sinai Hospital, Dr. James George, who referred us to Dr. Michael Harris, the highly regarded colorectal surgeon who ultimately saved my life.
We met with Dr. Harris that week and he explained the details of the surgery and prepared me for what to expect in my recovery. We took our time, confirmed that all of our questions were answered, and decided it was finally the right time, with the right doctor, at the right hospital.
On January 10, 2011, I had my colon removed. I will never forget being rolled back into my hospital room with my entire family waiting to see me, and announcing that I actually felt like a "monster" had been removed from my body. That sick colon just needed to get out of me!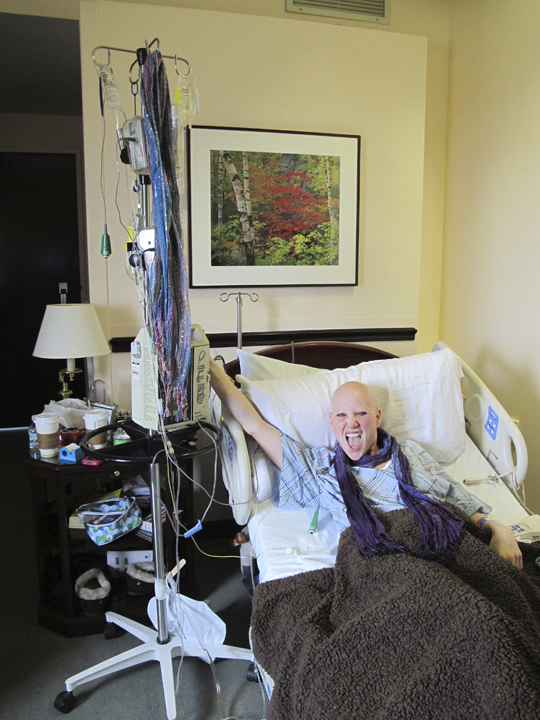 Feeling SO MUCH better after my surgery!
That first surgery was a complete success, as was the second surgery that was performed a few months later. Recovery after both surgeries was the real challenge, but my body healed incredibly well and the soreness from that was something I was happy to endure. After all of the horrible pain I had weathered for so many years from ulcerative colitis, the healing discomfort was nothing in comparison.
The Right Decision
I have never regretted having the surgery for one single second since I made the decision to go through with it.
Today, I have my life back, Mike and I have each other back, and nine months ago we added to our family when we welcomed our baby girl Joey Love into the world!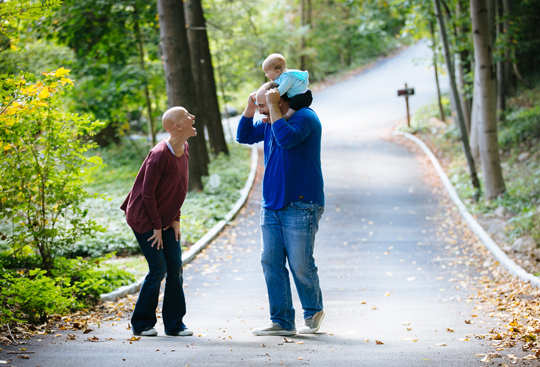 We love being parents to our daughter Joey Love!
We don't know how, but after many years of feeling helpless and hopeless, we actually made it through to the other side.
Check In With Yourself
If you are currently struggling with an illness, I recommend that you take advantage of the New Year and check in with yourself to make sure you are satisfied with your quality of life: physically, emotionally and spiritually.
I recommend that you contemplate the following considerations:
1. Are you happy with your doctor? Do you trust him or her with your life? Is it up to par with the type of care you deserve? If your aren't so sure, maybe it's time to start looking for another doctor who might be a better fit for you and your situation.
2. Are you feeling content with your current course of treatment? Are the medications working? Are any non-traditional interventions improving your symptoms? If not, maybe it's time to check in with your doctor to let them know you think it's time to try something else.
3. Are you satisfied with your quality of life? Is your illness infringing upon your personal life, your relationships or your career? If yes, maybe it's time to have a chat with your doctor, to see what other options you might have.
4. Could it be time to consider having surgery? As ominous as it sounds, there's a reason these major surgeries are known as life changing! If you have had enough, maybe it's time to consider some of the more drastic (but entirely safe) options that are out there!
If you feel you deserve better in any way, use the calendar and the New Year to make some changes in your life.
Regain Control
Those of us who deal with diseases like ulcerative colitis are so accustomed to feeling out of control, sometimes simply taking the initiative to make a change is enough to make us feel better.
Over the next week, think about these questions long and hard, and if you feel in your heart that your life could be better, plan to make some changes in 2014 so that you can find happiness again!
It's 2014 And I'm Back!
This year, I'm excited to say that I finally have some "normal" New Year's resolutions! I'm challenging myself to start working out on a regular basis and to get my body back in shape. It's been a long time -– between my illness and my pregnancy -– but it's time that I feel like myself again.
And the other thing I realized recently? After all of the time I spent praying for health, it looks like my prayers were answered after all.

Where are you in your struggles with your disease? Just diagnosed? Been sick for a while? Thinking about surgery? Had surgery and feeling good? Please share your story in the comments section below!
More from Everyday Health:
Is It Asthma or COPD?
Crohn's Disease and Your Risk for Colon Cancer
Don't Delay: Late Crohn's Diagnosis Can Cause Severe Problems
A New Year's Resolution That Changed My Life originally appeared on Everyday Health
BEFORE YOU GO
PHOTO GALLERY
Celebrities Who Have Used Alternative Medicine/Natural Remedies