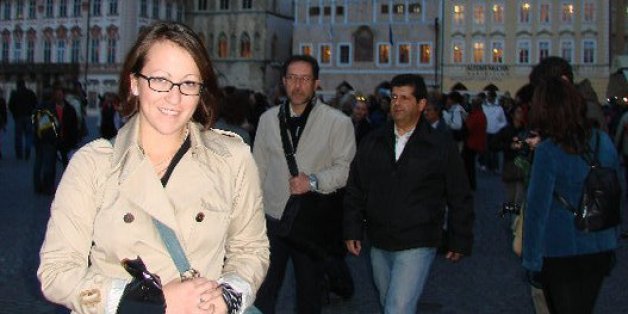 "This Is Divorce At..." is a HuffPost Divorce series delving into divorce at every stage of life. Want to share your experience of divorcing at a certain age? Email us at divorce@huffingtonpost.com or tweet @HuffPost Divorce
Divorce can be jolting at any age, but when you split up in your twenties, it can leave you wondering if you're cut out for marriage altogether. Below, reader Ashlee Henry shares how she came to see her divorce as an empowering experience and what she's done to make sure her next marriage lasts.
If anyone had ever told me, "Ashlee, you will be married twice well before you are 30" when I was younger, I probably just would have laughed it off. Divorce was never seen as an option in my mind. I believed that someday, I would meet my Prince Charming and we would ride off into the sunset together (thanks, Disney). But now that I am planning my second wedding and have just celebrated my 27th birthday, that silly thought has turned into reality. Although at times it might seem terrifying, it is in reality anything but.

In fact, it's empowering.

When I was 20 years old, I started dating my first husband. We had known each other a bit in high school and dated long distance in college, so we never actually got to know each other. That was problem number one. We started planning our wedding out loud within months of dating but never really discussed how our lives would play out as a married couple. Clearly, that was problem number two. Merely days after graduating from our respective colleges, we were married and living together, which is hard enough to do immediately after making such a huge life jump like graduating from college, but then we moved half way across the country because his job with the military required it. Problem number three.

The truth was, we barely knew each other.

We had only seen a glimpse of these things dating half way across the country. How are you supposed to accept a person you love without even knowing what's below the surface? Their habits. Their tempers. Their faults. The truth of that matter is that you can't. Love isn't a fairytale and there isn't a prince at the end of the road.

I left my first husband after three months and spent the next three months trying to figure out what my life had become since marrying this person: I had become a wife -- a military wife, nonetheless -- and a supporter of someone who I'd potentially only see 50 percent of our marriage. But once I signed the divorce paperwork alone during the week of Thanksgiving in 2009, I soon came to realize that once I pulled myself together, I was no longer the hurt little bird I had appeared to be to my friends and family for the last few months. They finally saw me as someone strong and independent. I was someone that finally had her head on straight and that was empowering.

Oftentimes I was told that I was brave for getting out of a situation I knew wasn't right in my heart. It took some time, but eventually I came to see that myself.

Fast forward to age 27. Today I am planning a marriage to a man I know deep down is my counterpart in life. We moved in together almost immediately after dating (that's not recommended for everyone, I realize) and we know each other almost completely. Our love is built on knowledge and trust, which I believe makes us stronger and makes the love grow deeper every day.

I know that this time, things will work out because we are planning a marriage. Yes, the wedding is going to be a fun little weekend in the coming year but more than anything, we are planning a loving, supportive and understanding life together -- which is more than I can say for most marriages of 20 years or more.

My first marriage was just a wedding but my second will be a marriage which will hopefully create a love that will last a lifetime and has the backbone to support it.
Keep in touch! Check out HuffPost Divorce on Facebook and Twitter.

BEFORE YOU GO
PHOTO GALLERY
Young Celebrity Divorcees