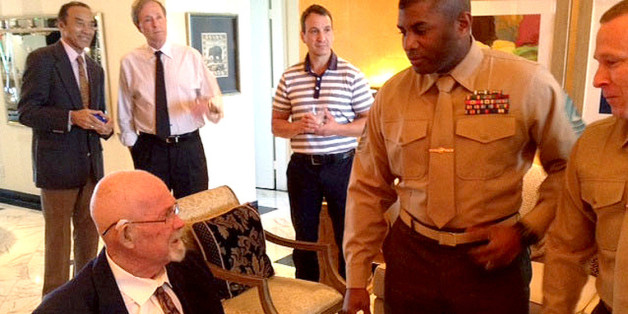 The United States Marine Corps. has finally given a gay former sergeant the long-awaited apology he deserved.
Hal Faulkner, 79, joined the Marines in 1953, according to the New York Times. He started as a private first class and, within the span of three years, went on to become a corporal and a sergeant, eventually getting assigned to a base in the Philippines.
In 1956, the then 22-year-old was discharged from the military after Faulkner's commanding officer learned that he was gay. He was dismissed on an "undesirable discharge" and the officer wrote "homosexual" on Faulkner's papers.
"They gave up on me," he told the Times. "[I'll] never forget it."
Last year, Faulkner was diagnosed with cancer in his lungs, liver and adrenal glands, giving him only about six months to live.
He was determined to get one last wish granted: getting his military discharge appealed.
"He's been carrying this societal shame with him all these years," Faulkner's niece, Michelle Clark, told NPR. "We as a family had no idea the pain he had inside of him."
It usually takes at least six months to correct an appeal, but his lawyer, Anne Brooksher-Yen, did everything she could to expedite the process, NPR reports. Two months later in mid-December, he finally got to right the wrongs from 58 years ago.
A ceremony was held on Friday at an apartment in Faulkner's building. He was surrounded by his friends and family as two young Marines in uniform presented Faulkner with his papers.
This time, the word "homosexual" was not included.
"I don't have much longer to live," Faulkner said at the ceremony. "But I shall always remember it."
Last year, J.J. Abrams set up a private screening of 'Star Trek Into The Darkness' to honor a dying man's wish. The 'Star Trek' fan had been diagnosed with leukemia and wasn't going to make it to see the movie, so the director made sure he did.
BEFORE YOU GO
PHOTO GALLERY
Our Favorite Military Reunions