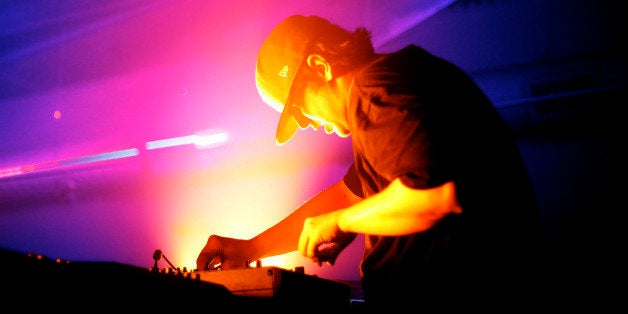 Glow sticks, rave babies and molly have become synonymous with the electronic dance music scene; in mainstream media, the genre's wide-eyed fans, heart-pounding beats and yes, pretty lights, are well known. One breakout EDM star, however, is looking outside the expected norm: Derek Vincent Smith, known best by his stage name Pretty Lights, has incorporated instruments and soul into his live performances.
Originally from Denver, Pretty Lights made a name for himself with "Finally Moving," a weighty track with vocal sampling from Etta James. It was remixed by Flo Rida in "Good Feeling" and also featured in a Buick commercial. It's his most recent album, though, the self-funded and self-promoted "A Color Map Of The Sun," that has launched him further into the mainstream music scene. The record, which marries synthetic sounds with funk, played by horns, drums and guitars, received a nomination in the Best Dance/Electronica Album at the 56th annual Grammy Awards alongside Daft Punk, Kaskade, Calvin Harris and Disclosure.
In 2013, Pretty Lights began touring with a full band, and created a live electronic sound unlike any act in the very crowded dance community. In a candid conversation, he opened up about fighting the "press-play DJ" world and climbing out of EDM's underground.
Were you expecting the Grammy nomination?
It definitely came as a surprise because I was not even thinking about it at all, honestly. I had been on tour for two months. We spent every day on tour recording and writing music, not only playing shows. When I was told that I got a nod for the Grammys, I was like, "Oh yeah, that's right! That was a possibility!" I never really expected anything, especially being an independent artist and paying for my whole album and all the marketing. I haven't really acquired any stature. I guess that's changed this year quite a bit, but I feel like I've existed in a more completely underground space even though that has gotten so big. I'm playing 5,000- to 10,000-person shows in most cities, but it still feels underground. I guess it's like that until you get a Grammy nomination or a number one hit. But it's nice. It feels good. I put my heart and soul into that record and it is really unique and was made in a unique way.
I think the Grammys also get a lot of backlash every year, so I was wondering if you even cared that the awards were happening.
I am excited about it, but what I'm more excited about is that it proves that on some level there's some sort of paradigm shift occurring with music all over the world. The combination of technology and music, the way people get music and how much music is coming out is pushing artists to evolve and challenge themselves. I'm excited about the fact that it was even possible for an artist like myself to get a Grammy nomination. I've seen tweets like, "Yeah, Derek, I hope you win and go up on stage and turn it down." I realize that's probably from a young person to think if I were to accept an award from the music industry, I'd be selling out or something. I don't agree with that. But, I make music because I want to make music. I don't make music to try to win a Grammy.
You were saying that this is the year where EDM has come out of the underground and artists are filling the arenas. How does that affect the way you perform? It's almost unchartered territory.
I feel like a lot of it is unchartered territory, definitely for me and for most of the artists in this genre. The artists are so young for the most part. I've seen genres come out of nowhere and blow up. One or two artists get really successful and then right behind them, a bunch of artists get semi-successful. Then all of a sudden, they have 150 tours traveling the States at the same time. I've seen genres explode and reach the saturation point, then kind of not be cool anymore. I've always thought about that and wanted to make my music very different. I attempt to create music outside of what may be trendy about the scene. This year I really felt like the marketplace for live performances was extremely saturated. I go to play a show and think I sold a good amount of tickets. I'm happy with this but maybe a handful of shows didn't sell out. I'd look at the schedule and realize, "Oh, this act is playing tomorrow night and this act played two nights ago, and this act played a week ago." That wasn't the case last year or two years ago.
In 2012, I saw you for New Year's Eve in New York City and I remember there were four or five other big electronic acts the same night. It seemed to dilute the crowd.
Yeah, exactly. That has become almost every weekend throughout the year. That affected my decision of where I wanted to go with my tour this year. Obviously with the release of my album, "A Color Map Of The Sun," it's a big leap to the side of what dance music is or what electronic music is or what people think it is and come to expect. I made that move because my new music required it and because I really wanted to change what people were experiencing in a performance setting and how they were experiencing the music from the albums in the live scenarios. I wanted to take massive steps to separate it methodically, visually. That's why I put together a full band playing vintage instruments in a studio and onstage in order to make it sound more grimy and old school and really try to inject this old school funk and soul vibe into the hip hop electronic.
It's been cool to see you transition into the funky '40s French vibe, bringing the soul and synth together. How did you come to find this side-steppy sound?
I think that getting into production through hip hop was the first part of that. I think people get into electronic music production through different doorways. Maybe they went to Burning Man when they were younger and they decided they wanted to be a DJ. I have a group of friends who are all musicians, and we were into hip hop and wanted to rap. I started making beats for homies and for myself, and played instruments in bands and realized the production was my strong suit. My favorite kinds of beats were sample-based tracks, golden '90s-era hip hop beats. I had no idea what it meant for a record to be all made from vinyl. Any kind of music from anywhere, any era, any place can be like fresh hip hop. I saw that and I decided I just wanted to push that as far as I possibly could, combining different eras, different samples, different types of music and making them feel like they're supposed to go together. That's what actually led me to want to make "A Color Map Of The Sun." I tried to make all those different genres and sounds myself and make them sound like they came from 40, 50, 80 years ago. After that process I was like, "There's no way I can go on tour with this album and recreate these kinds of sounds on the road."
How does it feel performing with the live band? How do you think this performance differs from what you were bringing to your audience before?
Initially I wanted to play with the band to deconstruct these new songs and perform them in a new way. I wanted to play with the band in a way that wasn't just musicians kind of noodling on top of beats or like mimicking other parts. We spent a lot of time taking out certain parts of the tracks so the horns could play, or the keys could play that melody. Whole other sections would disappear. It was really about taking the band and using all these instruments and sound design choices to evolve the tracks off the album. We would have a completely different live band version, a remixed version and a version from the album that was really spiced up by the instrumentation. There was never a set list. I wanted to treat the band as not only a really interesting performance method for electronic music but also as a really cool different sound that could be used as transitions as well. I really tried to use the sound it created as much as possible to work in that new sound, more soul, more feel, more humanity. Really connect the humanity with the music, especially the electronic music.
What I love about that is you hear critics say DJs or EDM acts are just press-play artists. What you're saying and what you're doing totally negates that.
I think that probably subconsciously played into my head a lot. I would get so frustrated by that, especially when a really large artist came out and said things like, "Yeah I press play, that's what I do. That's the kind of artist I am." I was like, "Okay, you're really talented. Why decide to just stop at being talented in the studio?" The technology that all these producers use, the possibilities are endless with how you can deconstruct your tracks and remix them live and do all this stuff. But it takes effort. You have to really know the technology and be creative with it and design a way to use it in an original way. In my tour, the arrangements were different every night. The mixing was different every night. That's what was so fun about it. I could work with the band like they were a giant record player. I had to concentrate about 10 times as hard, but I had about 100 times as much fun.
"Country Roads" was a big song for you and you were one of the first musicians to fuse country music and EDM. Country is having its own huge moment right now. Where do you think the two genres intersect?
I never thought "Country Roads" would be a big song for me, but there were fans at this festival in 2011, All Good, and they rallied and got all these people to ask me to remix this track. I made it specifically for this show and a lot of people latched onto that. They request it everywhere, but I won't play it anywhere except for West Virginia. I also did that RE:Generation thing where I worked with Ralph Stanley, LeAnn Rimes and all these country musicians from Nashville. I was intimidated and wondering if I would be able to fuse the two genres. You definitely hear country musicians who are using a more produced sound in their music. It might be really interesting to see if it's kept tasteful and classy. It takes taste to make good music.
Last summer Electric Zoo was canceled and there was a lot of talk about how drug culture and EDM culture are one in the same. What do you think about that?
I definitely disagree with that. There are people who use drugs to increase the amount of fun that they're having or think they're having. Obviously it's a bigger thing in the nightclub scene or the rave scene, or the new electronic scene, which is more akin to a rock concert than a rave. It's unfortunate that shows were canceled. I had shows canceled on my own tour because the communities would be afraid of things happening or kids OD'ing. I just read an article somewhere yesterday about how music plays on the exact same neurotransmitter receptors that a lot of synthetic drugs do and it's like people who are really receptive and love music get the same experience as someone who may take Molly. I think as the fans grow up more, once people aren't going to shows just because it's the cool new thing to do, that it will continue to decrease.
I think there's a constant debate in pop culture, in the music industry and in the EDM community, so it's interesting to hear musicians' perspective on it.
It comes up a lot. I had to really register why a concert I was putting on got canceled because a singular person overdosed on some drug in a different community at a different artist's show a month prior. I embraced it and kind of understood what the people in that community would be thinking. Then I sort of amended how I talked and thought so I could keep things positive for the community, the music lovers, the users, the non-users. It's about safety and being united and coming together for good art and good music. I think that can save the day.
Fans can get a free download of Pretty Lights' new BitTorrent bundle, which includes "A Color Map Of The Sun," " A Color Map Of The Sun Remixes," the album's 16-video visual project and a special live video, "Let's Get Busy."
BEFORE YOU GO
PHOTO GALLERY
Forbes' Highest-Paid DJs Of 2013