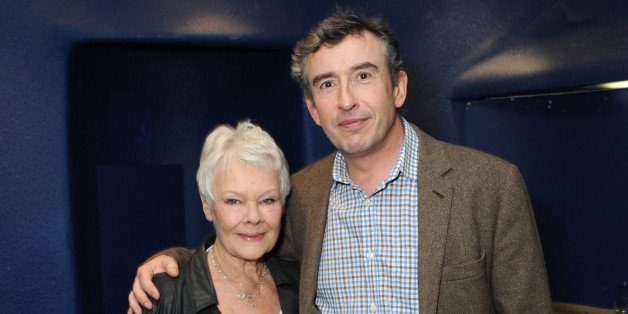 Thanks in part to the New York Post's Kyle Smith, Stephen Frears' fact-based new film, "Philomena," has become the most unlikely controversial movie of awards season.
Co-written by Steve Coogan and Jeff Pope and starring Coogan as journalist Martin Sixsmith and Judi Dench as Philomena Lee, the film focuses on the title character's search for her son, Anthony, who was born out of wedlock in Ireland in 1952 and eventually sold to an American couple when he was just 3 years old. (After becoming pregnant, Philomena was sent to a Magdalen Laundry, a convent for women who had conceived outside of marriage.)

"The film doesn't mention that in 1952 Ireland, both mother and child's life would have been utterly ruined by an out-of-wedlock birth and that the nuns are actually giving both a chance at a fresh start that both indeed, in real life, enjoyed," Smith wrote in his Nov. 21, 2013 review of "Philomena." "No, this is a diabolical-Catholics film, straight up."
Lee herself responded to Smith in a letter published by Deadline.com. "The story it tells has resonated with people not because it's some mockery of ideas or institutions that they're in disagreement with," Lee wrote. "This is not a rally cry against the church or politics. In fact, despite some of the troubles that befell me as a young girl, I have always maintained a very strong hold on my faith."
Speaking at an event hosted by The Peggy Siegal Company in New York on Monday, Coogan also noted that Smith's critique turned a blind eye to the reality of Lee's situation as a teenage girl in Ireland.
"Kyle Smith from the New York Post said that the film fails to point out that these homes took these young women in when there was nowhere else for them to go. Well the reason there was nowhere else for them to go was because of a situation created by the church itself, in which the women were shamed and castigated and ostracized," Coogan said. "So, yes, they were part of the solution, but they were also part of the problem."
Despite that, Coogan, who is nominated in the Best Screenplay category at the Golden Globes (where "Philomena" is also up for Best Picture - Drama and Dench for Best Actress - Drama), said it was his intention to be fair with the story. "I didn't want to turn it into a very heavy-handed polemic saying all nuns are evil," he noted. "Undoubtedly, there were very kind nuns. There was a nun called Sister Annunciata, who took a photograph of Anthony and secretly gave it to Philomena. That actually happened. She was someone who Philomena remembers really fondly."
Coogan said his parents are practicing Catholics, and that he keeps up on the comings and goings of the Church. When asked whether Pope Francis would like "Philomena," Coogan was hopeful.
"I think all the noises the Pope has made so far would suggest that he'd be more nuanced and mature in his reaction to it, than some of his flock," he said.
"Philomena" is out now.
BEFORE YOU GO
PHOTO GALLERY
Celebrity News & Photos