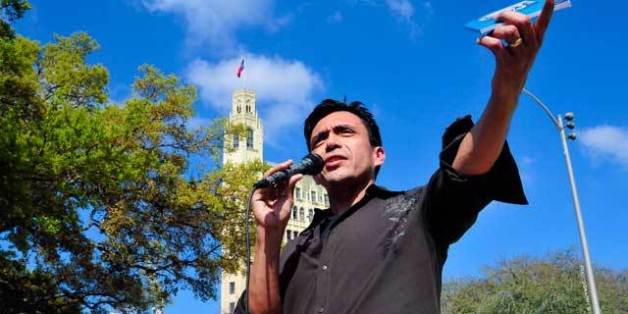 After two years of protesting the ban on a controversial Mexican-American studies program in Tucson, Ariz., public schools, writer-activist Tony Diaz is developing a curriculum of his own at a college in Texas.
Diaz started a job in December as head director of intercultural initiatives at Lone Star College's North Harris campus outside Houston, where he'll teach Latino literature and work on Hispanic outreach.
"I'm excited about teaching, but also because I think I can take a unique approach to Mexican-American studies," Diaz told The Huffington Post. "I'm trying to get to the point where we're doing business classes. I really want to expand what people think of as Mexican-American studies -- not just humanities and liberal arts, but also business, health."
Administrators hope that Diaz can help the college better serve a student body that is 35 percent Hispanic.
"We are excited to have Tony Diaz join the efforts at LSC-North Harris to increase student success through more extensive outreach and engagement of our Hispanic students," said Steve Head, the president of LSC-North Harris, in a press release. "We are one of the most diverse community colleges in the Houston metropolitan area and strive to have an inclusive culture that benefits all students, and the entire community."
To build those bridges, Diaz said he's begun meeting with Chicano and Latin American student organizations, and plans to recruit a group of 25 local leaders -- "everything from lawyers to immigration activists" -- to serve on an advisory council.
"I want to put the community back into community college," Diaz said. "They need to feel at home here. We have to build the infrastructure."
Diaz made national headlines in 2012 when he fought the Arizona Legislature's ban on a Mexican-American studies curriculum in Tucson public schools. The program won praise for boosting student achievement and fostering university-level critical thinking using subjects that resonated with most Mexican-American students.
But conservatives accused teachers of politicizing Hispanic students and breeding resentment against whites by focusing too much on the issues of race and socioeconomic inequality. An effort by then-Arizona Superintendent of Public Instruction Tom Horne and then-state Sen. John Huppenthal resulted in the passage of a bill in 2010 prohibiting courses that seek to overthrow the federal government, treat students as part of an ethnicity rather than as individuals, or that breed ethnic resentment.
Latino activists and intellectuals rallied behind the program's teachers and students when school administrators removed seven curriculum-related titles from classrooms. The Tucson Unified School District Board lifted the restrictions on the books in October.
Diaz emerged as a self-styled "book smuggler," or "Librotraficante," working with multimedia artist Bryan Parras and journalist Liana Lopez to start underground libraries in Tucson, packed with Latino literature no longer offered in local classrooms.
The fight over Tucson's Mexican-American studies program has been channeled into the courts. A federal judge largely upheld the law last year, but the ruling was appealed to the 9th U.S. Circuit Court of Appeals.
The Arizona experience, however, continues to drive Diaz.
"I really feel like everything that I've done in my life up until now has been practicing for this moment," Diaz said. "And we really owe a lot to our brothers and sisters in Arizona who put up a big fight and taught us we can't take anything for granted."
BEFORE YOU GO
PHOTO GALLERY
Latino Books Once Banned In Arizona