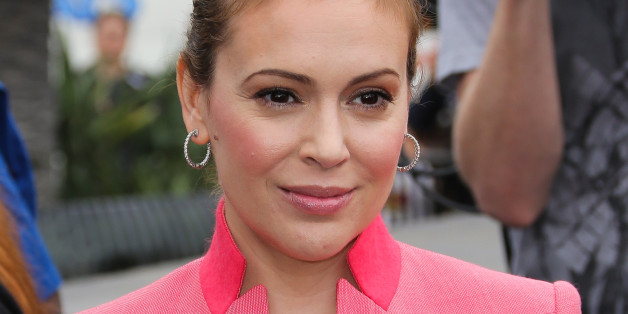 Alyssa Milano opened up about Jay Mohr's post-baby fat-shaming jab and said the comedian hurt her when he chose to target her weight in jest.
Mohr made a joke about Milano's body last month after seeing the actress, who gave birth to a baby boy in 2011, at the NASCAR Sprint Cup Series Champion's Awards in Las Vegas on Dec. 6.
"She was one of the presenters... She's very tiny," he said. "It seems like she had a baby and said, 'I don't really give a s**t' ... I read it on her gut ... Somebody sat in the director's chair and was not wearing Spanx and I was like, 'Jesus Christ.'"
Instead of responding to hate with hate, the 41-year-old actress wished him well and offered her regards to his wife, Nikki Cox.
On Tuesday, Jan. 7, the former "Who's the Boss?" star spoke with "Extra" host Mario Lopez about the incident.
"I just think he was trying to make a joke and not think about it, but I heard it actually on Christmas Day and it hurt me, I was affected by it and I wanted to remind him that I'm a human being and that this hurts," Milano said.
"I think it's an interesting statement about where we are socially that people feel that they can sort of rip a woman's body apart after having a baby," she continued. "I think we've plastered these celebrities on tabloids about how much weight they gained during their pregnancy and how quickly they lose it afterwards and[,] so[,] it's sort of [...] unfortunately, everyone's fair game and I don't think it's fair. I gained 55 pounds when I was pregnant, I still have 10 more to lose. [My son] is 2 in four months."
Mohr ultimately apologized for his crass comments, saying it was a failed attempt at a joke and adding he is embarrassed he didn't think before he spoke. He said he was especially sorry since he knows what the tabloids have written about his wife.
"Alyssa is a mother, a wife, an actress, and a class act that should always be celebrated," he wrote on his blog. "Sometimes comedians go too far. I went too far. I cannot change what I said, but I can assure you that my heart is broken that I hurt her. I am very sorry."