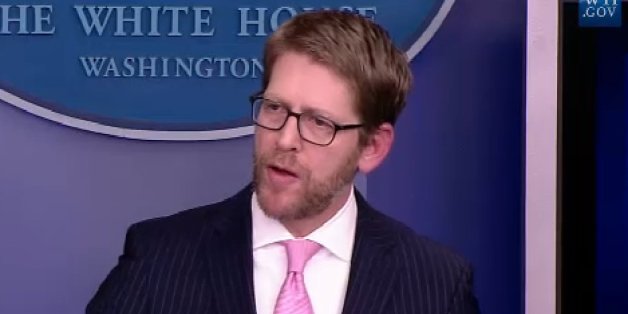 At Wednesday's White House press briefing, spokesman Jay Carney denied that allowing photographers into President Obama's lunch with Vice President Biden was anything besides an attempt to increase photo access at the White House.
In a rare move, photographers were permitted into the weekly lunch. Here's what it looked like, via Getty: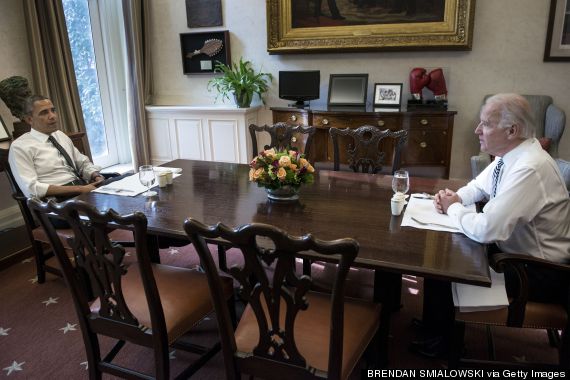 Journalists and the Obama administration have been publicly grappling over the issue of photo access for weeks now, with reporters protesting that the White House frequently prevents them from taking pictures of the president. The photo op on Wednesday, however, also comes after former Defense Secretary Robert Gates' criticism of Biden's handling of foreign policy in his new memoir.
Carney was peppered with questions about Gates' book on Wednesday. When asked if the book's comments about Biden spurred the decision to give photographers access to the lunch, Carney said, "No." He said the lunch is a weekly occurrence.
That it was after the book's allegations surfaced was a "coincidence," Carney added.
"It's not normally on camera," one reporter called out.
"Exactly," Carney said. "We have, as you can ask our friends in the world of photography here, debate and discussion with them about how we can better improve access for them. This has been something that they've raised with us in the past. So you guys can decide for yourself."
In his book, Gates wrote that Biden "has been wrong on nearly every major foreign policy and national security issue over the past four decades." The White House defended the vice president, calling him "one of the leading statesmen of his time" in a statement issued Tuesday.