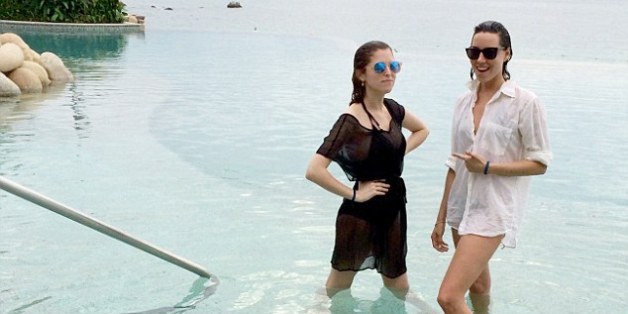 Anna Kendrick and Aubrey Plaza have been enjoying their vacation at the Garza Blanca Preserve Resort & Spa in Puerto Vallarta, Mexico. Photos obtained from X17online.com show the actresses posing in their suite's private infinity pool.
Kendrick and Plaza weren't the only two adjusting to the water. The friends were given the chance to release baby sea turtles into the ocean and, from the looks of it, they had an amazing time doing so.
Kendrick posted a photo to her Instagram account of a baby turtle that was small enough to fit in the palm of her hand. "We met Squirt. "Rip it, roll it and punch it jellyman!!! #garzablanca," wrote the "Pitch Perfect" star, in reference to "Finding Nemo."
Plaza then tweeted a photo of herself balancing a turtle in her hand.
TURTLE DREAMS IN MEXICOOOO #garzablanca #ikidnappedannakendrick pic.twitter.com/3KWUxOdGEQ

— Aubrey Plaza (@evilhag) January 7, 2014
The "Parks and Recreation" actress later joked that she had turned pal Kendrick into a baby turtle.
I TURNED @AnnaKendrick47 INTO A BABY TURTLE #garzaaaaablanca

— Aubrey Plaza (@evilhag) January 7, 2014
Without hesitation, Kendrick replied, "Whatever, I'm gonna live to 150 now."
Kendrick and Plaza aren't the first celebrities to show an affinity for the marine reptiles. Paul McCartney supported a campaign in 2012 to save sea turtles from being farmed and Peaches Geldof is an advocate of The Sea Turtle Trust. Perhaps Kendrick and Plaza will be the next to support environmental campaigns to protect their new turtle friends.
So, what could be sweeter than two young actresses bonding on a beach in Mexico? Two young actresses bonding with tiny sea turtles on a beach in Mexico. Now you know.
BEFORE YOU GO
PHOTO GALLERY
Celebrities With Animals