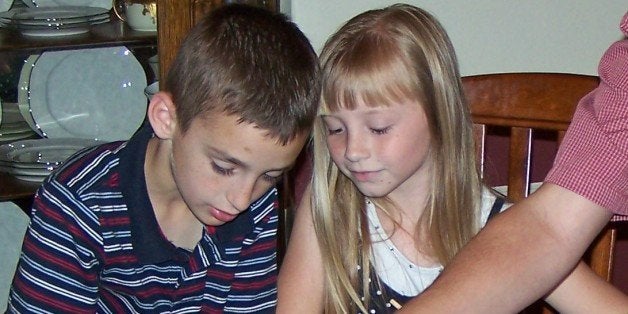 There's no limit to what puppy love can do.
When Jennifer Carnahan found out that her son's longtime-crush's father died, she knew he'd want to help her family.
David, who is now in sixth grade, has been friends with Jolie Fowler since they were in second grade. "He adored her for a long time," Carnahan told The Huffington Post.
Jolie's father, Dan Fowler, left his family without life insurance, so a friend of the Carnahans suggested crowd-funding. In the last week of December, they created a GoFundMe site called "David's Crush Lost Her Daddy."
David wrote in the description:
"My crush since 2nd grade lost her daddy last week. He had no life insurance. I would like to help her family in some way. Please consider donating. Thank you."
They set a modest goal of $500 and hit that in just 24 hours. As of Thursday evening, the do-gooders from Texas have almost raised $3,000. And David is ecstatic.
"He personally thanks every single donor himself," his mom told HuffPost. "He's learned a lot."
More than 90 people have donated and many have sent their regards to David and warm wishes to the Fowlers.
"So proud of you David to understand the concept of compassion and caring at such a young age. You have set the perfect example of 'paying it forward,'" one donator wrote.
But the person most touched by David's efforts is Jolie's mom.
When David's mom first told Mrs. Fowler about the site, "She just started sobbing," Carnahan said.
BEFORE YOU GO
PHOTO GALLERY
Ways To Teach Kids The Joy Of Giving