Considering it was their first time hosting, Kat Dennings and Beth Behrs barely missed a beat on the People's Choice Awards stage on Wednesday night. The "2 Broke Girls" actresses opened the show with a fun and topical sketch that brought them all the way from Williamsburg Diner to the Los Angeles stage.
The opener begins with Dennings and Behrs, in character as Max Black and Caroline Channing, working hard at the diner, taking orders and dodging a flying shark, a reference to 2013's popular "Sharknado." After finishing her meal, "Big Bang Theory" star Kaley Cuoco realizes that she does not have enough money to pay her bill and tip her waitresses, so she gives them an invitation to host the People's Choice Awards instead. Christina Aguilera selflessly offers to cover Max and Caroline's shifts while they're gone. The waitresses hitchhike from New York to Los Angeles with the help of out-of-control driver Walter White (Bryan Cranston).
Dennings and Behrs arrive onstage, free of their yellow and red uniforms and ready to replace their order pads with microphones for a night.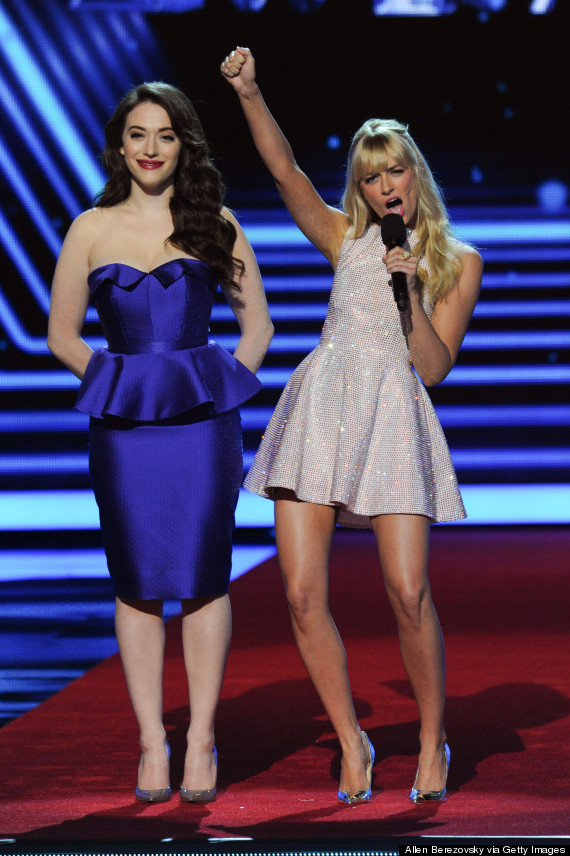 The audience, however, can only see Max and Caroline, and people are hungry. Country music star Brad Paisley stands to ask for a burger and fries, and fashion icon Heidi Klum asks if she could also have an order, while they're at it. Dennings and Behrs, torn between their hosting and waitressing duties, muse that there must be a way that they can do both at the same time. After all, the People's Choice Awards has a "huge budget, sort of." On that note, an army of Max and Caroline lookalikes, all clad in Williamsburg Diner uniforms, takes the stage, holding platters of burgers and fries. The army then fans out through the audience to serve some good old fashioned American diner food.
Dennings remarked, "Some of me are definitely dudes." Watch the entire video to see Dennings and Behrs effortlessly slip in and out of character as they open the 40th annual People's Choice Awards.
BEFORE YOU GO
PHOTO GALLERY
Kat Dennings