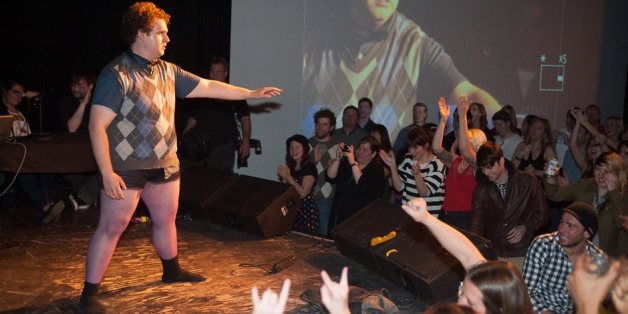 The head-banging and limb-flailing you expect from air guitar is a common feature of a new type of performance: "Air Sex."
Created in 2006 by a group of single men in a Tokyo karaoke bar, air sex came to the U.S. when comedian Chris Trew saw a video of it on YouTube. In 2009, the Air Sex World Championship was born.
According to the official website, the rules are fairly simple: all orgasms must be simulated, no nudity is allowed and there must be an imaginary person or object involved in your performance. Contestants are allotted two minutes to recreate all the trappings of a live sexual encounter. A panel of judges, ranging from comedians to sex shop owners, choose finalists who compete for the audience's vote in a championship round. And it's not a boys club -- women make up about one-third of participants.
Referring to itself on Facebook as a sports league, this salacious pastime isn't exactly an afternoon at the soccer field. But fans and participants see it as a healthy way to express sexuality. "Sex is a big part of life and framing it in a way that allows us to laugh at it is a very powerful thing," Trew told The Daily Mail. Washington D.C.'s 2009 Air Sex Champion, Auto Asphyxia, explained to Slate that stage fright isn't reserved for Air Sex competitions, and all sex can feel like a performance: "Bringing comedy to sex helps ease the tension that so many people feel about it. It relaxes people."
This raunchy and often hilarious phenomenon has gained so much popularity that Tribeca Films made a movie about it. The romantic comedy "Love & Air Sex," out in February (see trailer below), will show the tender side of air sex. Competitions have been held in 30 U.S. cities, and air sex is steadily making its way to the UK.
While watching people simulate sex -- alone and on stage -- takes some getting use to, participants feel it is healthy, sex-positive form of self-expression that is increasingly entering the mainstream. Indeed, a breath of fresh air.
How do you feel about "Air Sex" as a growing phenomenon? Comment below or tweet @HuffPostWomen.
BEFORE YOU GO
PHOTO GALLERY
Air Sex Championships 2013