Disturbing footage taken on cell phone cameras shows the brutal beating of a 16-year-old Hollywood, Fla., girl before she was allegedly held down and raped in November.
In new video of the incident, which was obtained by WFOR on Thursday, cops say two female suspects, Ericka Avery, 16, and Patricia Montes, 15, punch and kick the victim relentlessly.
According to the station, the teens tell the victim that the beating will only stop if the victim has sex with a 19-year-old man named Jayvon Woolfork. The victim is heard crying and begging to be let go.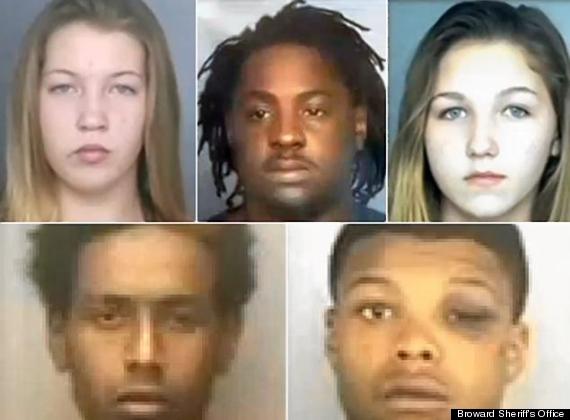 Suspects (clockwise from top left): Erica Avery, 16, Jayvon Woolfork, 19, Patricia Montes, 15, Lanel Singleton, 18 and Dwight Henry, 17
Dwight Henry, 17, and Lanel Singleton, 18 -- are also accused of dragging the victim into a room and holding her down as Woolfork sexually assaulted her, according to the New York Daily News.
The victim told police that all the teens held her down, but in a police interview, Singleton denied that anyone had restrained the girl. All of the teens have pleaded not guilty to the charges, which include armed sexual battery and kidnapping. The Huffington Post has named all suspects because each has been charged as an adult.
"I swear to God on my life," Singleton said, according to WFOR. "No one was holding her down."
In court documents released Dec. 20, the victim recounted how the girls, who she thought were her friends, turned on her and started beating her after a night of drinking and smoking marijuana. She said things turned ugly when Avery sprayed her with Mace, the Sun Sentinel reported at the time.
"I just don't ever want to see them again," the girl told police, according to the newspaper. "I thought they were my friends. And for them to do something like that, it's just really messed up and cruel, and sick in the head."
"It's unconscionable to believe people can treat other people the way they treated this young lady," Broward Circuit Judge Lisa Porter said after she watched other videos of the attack in November. "But videos don't lie."

BEFORE YOU GO
PHOTO GALLERY
10 Major Crimes That Shocked America (SLIDESHOW)