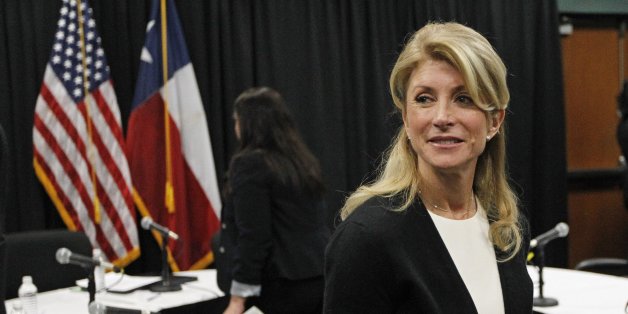 Texas Democratic gubernatorial candidate Wendy Davis wants to bring major changes to Texas education.
Davis, who is currently serving as a state Senator, announced several education policies aimed mostly at improving teacher quality.
Her proposals seek to implement reforms like boosting teacher pay and upping the number of school aides and counselors around the state, according to a press release on Your Houston News. The plan also suggests offering guaranteed spots at Texas universities to top high school students interested in teaching, and giving student loan forgiveness to working teachers after they graduate, reports The Associated Press.
"Education must be the number one priority we address as a state," said Davis at the University of Texas at Arlington yesterday, according to The Dallas Morning News. "It is part of making sure that we keep a promise to Texas, that where they start should have nothing to do with where they go."
Davis, who rose to fame last June after her 13-hour filibuster of an anti-abortion measure, is likely the democratic nominee for governor, according to The Dallas Morning News.
Davis did not offer insight into how she would pay for such initiatives, but she said they would not require a tax increase.
"I certainly, as governor, do not intend to propose a tax increase," she said, according to local outlet Kera News. "I do believe we can do this within existing resources particularly as the economy continues to show the success it's shown."
A spokesperson for Attorney General Greg Abbott, who is likely the Republican nominee for governor and has not yet announced education plans of his own, pushed back on Davis' proposals.
"Sen. Wendy Davis' proposals are more fuzzy math," Matt Hirsch, communications director for Abbott, said to KXAN-TV. "[It is] a plan that will increase spending and impose more mandates on Texas universities without explaining how to pay for it."
However, the president of the Texas branch of the American Federation of Teachers, one of the nation's largest unions, put out a statement endorsing her proposals.
"With specific, practical policy ideas announced today, Sen. Davis showed yet again she's ready to be a can-do governor and lead Texas into a new era of school improvement," Texas AFT President Linda Bridges said in a written statement. "Texas AFT applauds Sen. Davis for making educational improvement and the funding to support it the foremost priority of her campaign."
BEFORE YOU GO
PHOTO GALLERY
Wendy Davis Speaks For 11 hours On The Abortion Bill