Aaron Paul and wife Lauren Parsekian looked gorgeous together on the red carpet at the 2014 Golden Globe Awards Sunday (Jan. 12).
The "Breaking Bad" star and his stunning wife dressed to impress at the 71st Annual Golden Globe Awards held at The Beverly Hilton Hotel. He was decked out in a sharp suit, while she donned an eye-popping red gown.
The two posted an Instagram photo before they arrived at the event.
"It's that time. Yeah Bitch. #GoldenGlobes," he wrote. "So proud of this man. We are all rooting for you! 💛 #goldenglobes," she wrote, after posting the same photo.
Although he is nominated for Best Supporting Actor in a Series, Mini-Series or Motion Picture made for Television for playing Jesse Pinkman in the hit AMC series, Paul has not prepared an acceptance speech.
"I'm not even going to think about that. In all honesty, if it happens, fantastic. I'll be out of my mind up there," Paul told E! News. He added that he hopes his co-star, Bryan Cranston, and creator of the series, Vince Gilligan, score their own awards, "Bryan has to win. Vince has to win. I want Vince up on that stage."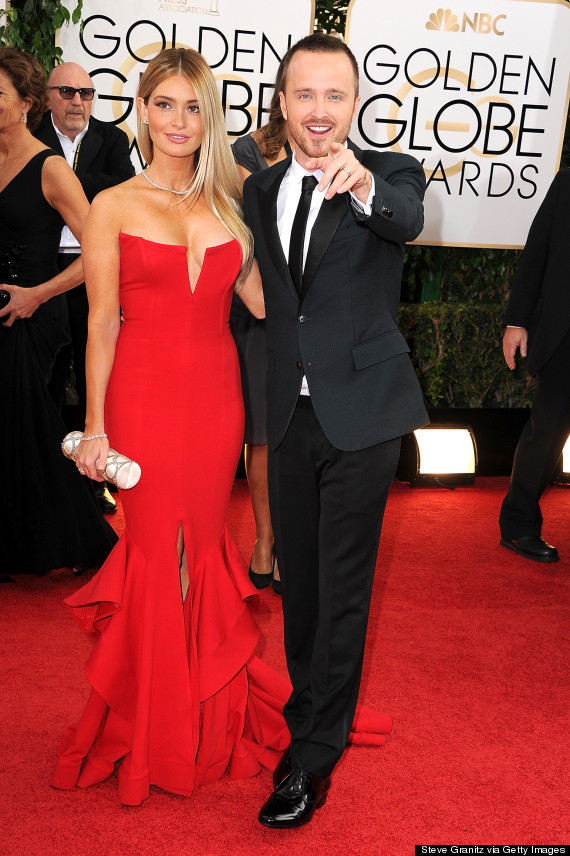 01/12/2014 11:30 PM EST
What Better Way To End This Live Blog
"This is really boring television" Elisabeth Moss, my new role model for all social interactions #GoldenGlobes

— Jessica Goodman (@jessgood) 5 years ago
Good night, all!
01/12/2014 11:29 PM EST
Ronan Farrow Is Not Happy With Woody Allen
Missed the Woody Allen tribute - did they put the part where a woman publicly confirmed he molested her at age 7 before or after Annie Hall?

— Ronan Farrow (@RonanFarrow) 2 years ago
01/12/2014 11:00 PM EST
"12 Years A Slave" Wins Best Picture - Drama
It was the only win of the night for "12 Years A Slave," but it was a big one. Steve McQueen's acclaimed drama won Best Picture - Drama, besting "Gravity," "Philomena," "Rush" and "Captain Phillips."
01/12/2014 10:50 PM EST
Matthew McConaughey Wins Best Actor - Drama For "Dallas Buyers Club"
All right, all right, all right.
01/12/2014 10:46 PM EST
Cate Blanchett Wins Best Actress - Drama
A no-brainer.
01/12/2014 10:39 PM EST
"American Hustle" Wins Best Motion Picture - Musical Or Comedy
"American Hustle" wins Best Motion Picture - Musical Or Comedy, besting "The Wolf Of Wall Street," "Her," "Nebraska" and "Inside Llewyn Davis."
01/12/2014 10:22 PM EST
"Brooklyn Nine-Nine" Wins Best Comedy At The Golden Globes
The Globes love them some "Brooklyn Nine-Nine," which has been on the air for half a season.
01/12/2014 10:16 PM EST
Liam Neeson Introduces "Gravity"
One of Liam Neeson's particular set of skills: introducing movies about space! #goldenglobes

— kase!! (@worstkase) 5 years ago
BEFORE YOU GO
PHOTO GALLERY
Golden Globes 2014: The WHOLE Red Carpet